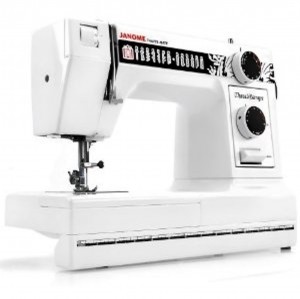 The
Janome Threadbanger TB12
sewing machine was introduced in 2008 as a co-branded sewing machine with the popular Threadbare DIY sewing design and fashion website. It is a twin to the popular New Home L108 except it now includes the slick black and red graphics that mirror the colors of the ThreadBanger site.
It's an ideal sewing machine for beginners who want to work with thick fabrics and need a power house to get the work done. It's not overly complicated and has been described as being strong and forgiving.

Table of Contents
(Click Ahead!)
Stitch Count / Presser Feet / Functionality / Accessories / Customer Reviews / Pros, Cons & Manual
Update April 21, 2012: This machine is a retired model but you can still find it online and at some of Janome retailers. If this is the sewing machine you want but you're having trouble finding it, check out the new Janome HD1000 Heavy-Duty Sewing Machine with 14 Built-In Stitches. It's a similar model with the same price just without the cool graphics.
REVIEW SUMMARY
MODEL: Janome Threadbanger TB12 Sewing Machine
REVIEWED BY: Erin
RATING: 4.7


LAST UPDATED: April 10, 2015

JANOME HD1000
Amazon
Overstock
Janome (pronounced JA-NO-ME) may be a Japanese company but they have old ties to one of the original American sewing machine companies after acquiring New Home (originally known as New England Single Thread Hand Sewing Company circa 1860 in Massachusetts) several years ago. Janome also makes some of Kenmore's sewing machines and appliances.
What Stitches Come with the Machine?
(Back to Top)
While there is a computerized version (the TB30) this one is not computerized but is mechanical. Two dials on the front allow for stitch selection and length adjustment and the machine offers a total of 12 stitches:
Straight
Zigzag
Tricot (Multi-stitch Zigzag)
Blind Hem
Feather
Overcasting
Triple Strength
Rolled Hem
4 Stretch Stitches
In addition, there is a 4 step buttonhole function – not quite as simple as a 1 step but still does the job.
Some listings of this machine state that it comes with 13 stitches rather than 12. The difference is that they are counting the 4 step buttonhole function as the 13th stitch.
Enough Basic Presser Feet to Get Started
(Back to Top)
The feet are easily changed due to a quick change feature built into the sewing machine. You are supplied with four snap-on presser feet:
General Purpose
Zipper Foot
Buttonhole Foot
Hemmer Foot
Features and Functionality
(Back to Top)
This model is portable so designers on the go can take their machine with them (case not included) and has a fold down handle. It also has free arm capability so sleeves, pants, and hemming are easily tackled.
Maximum speed 840 spm
Stretch stitch adjustment
Maximum zigzag width 5.0 mm
Maximum stitch length 4 mm
Thread tension control Lay-in type
Extra-high presser foot lift
Marking on needle plate (inches and metric)
Reverse lever
Drop feed dog Lever type
Bobbin winder Auto-declutch type
Thread cutter Yes (Underneath the face plate)
Thread take up lever Slit type
Spool pin Vertical type
Lamp -Incandescent
Power switch
Foot controller
It may not be the rounded, jazzy corners and sculpting seen in other new machines, but it was designed to last and can handle heavy duty sewing projects. It has a cast aluminum body rather than some of the plastics found on other machines and this is meant to reduce wear and opportunity for machine breakdown. Its sturdy structure allows it to handle thick fabrics without skipping a beat. This makes it one of the better sewing machines for beginners who want to get into quilting as well as making clothes.
This sewing machine uses a vertical oscillating hook (the "hook" describes the way the needle moves to complete a stitch). A vertical hook is less finicky and handles different types of threads more easily than a horizontal hook so this is a plus for the ThreadBanger.
I've found several different weights listed for this machine. Even Amazon lists its weight as 25 pounds (although they go on to say the shipping weight is 20 pounds, adding to the confusion about the machine's true weight). The Janome site itself gives a specified weight of 7.6 kilograms which converts to 16.8 pounds. This would seem more appropriate considering the product's claims of portability.
There is also a storage compartment built into the machine to hold the provided accessories.
Dimensions: L 15.4″ x W 12.2″ x D 6.1″
Weight: 16.8 pounds
It Comes with These Accessories
(Back to Top)
The following accessories are tucked inside the box:
Needles Blue Tip Size 11
Extra bobbins
Felt for Spool Pin
Hem Guide
Oil
Large Needle/Plate Screwdriver
Small Tension Screwdriver
Seam Ripper
Soft cover to protect machine while not in use
Well Liked by Other Owners
Consumers who purchased this machine rated it very highly and not because it was so intriguingly different. It's ability to power through even tough projects, the nice throat size, and the sturdiness of the machine were all pluses.
Rated reviews exist on several sites and all give this machine higher than 4 out of 5 stars. 

Average Rating: 4.7
Pros, Cons & Manual

Pros: Easy, straight stitching, handles multiple layers of fabric easily, sufficient quilting functionality, easy to clean and oil, low watt lamp, quiet (although not as quiet as computerized machines) and a ruler guide on the front of the machine helps quickly double check measurements.  The handwheel feels nice and sturdy and is easily controllable.



Cons: No adjustable pressure foot, awkward positioning of the lever to lift the foot, and threading the needle can be tricky.

Manual available online here: Manual
Manufacturer's Warranty:  In the US, as of this date, the Janome ThreadBanger TB12 comes with a 20 year warranty on parts, 2 years on electrical, 1 year on labor and may be voided by certain activities.
Check for the lowest price on the newer version here:
JANOME HD1000
Amazon
Overstock
Features Summary Review: