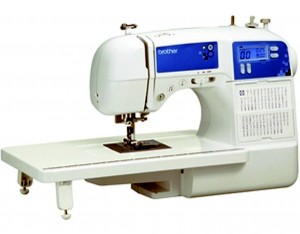 Initially, the
Brother XR9000 sewing machine
was available almost exclusively at Costco but it's recently become available at several other locations.
An included hard cover case and extension table, lots of automation and a low price are hard to ignore.
It might look familiar, too, as it's identical to another popular Brother model – the SQ9000.
Table of Contents
(Click Ahead!)
Stitch Count / Presser Feet / Functionality / Accessories / Customer Reviews / Pros, Cons & Manual
REVIEW SUMMARY
MODEL: Brother XR9000 Sewing Machine
REVIEWED BY: Erin
RATING: 3.7


LAST UPDATED: April 9, 2015

COMPARE PRICES
Amazon
Brother, in particular, often takes machines that are popular and "repackages" them with different exterior décor, different accessories and a new model number.
One reason for doing so is to target a different type of sewing with each arrangement. Another is to create an exclusive selling arrangement with various retail partners. They're not trying to hide anything but it can be kind of confusing when you're trying to compare different models.
Brother XR9000 Sewing Machine Stitches
(Back to Top)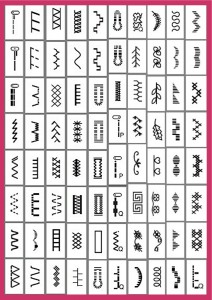 There are 80 built in stitches including all the must-have utility stitches for regular and stretch fabrics, decorative stitches like fancy vines and hearts, and heirloom stitches for quilting and piecing.
Maximum stitch width is 7mm and maximum length is 5mm. There are 8 styles of one-step buttonholes. Buttonholes, of course, come in handy for garment construction but they're great for making bags, pillows, and other sewing projects. The maximum buttonhole length of the automatic buttonhole stitches is 1 1/8" but longer buttonholes can always be manually created.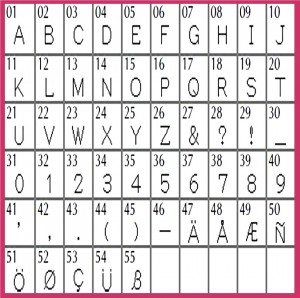 The Brother XR-9000 sewing machine is one of the least expensive sewing machines that include a letter font. One plain font is programmed into the machine for use in creating your own labels or monogramming your projects. The font consists of 55 characters: letters A-Z, numbers 0-9, and 19 other characters and punctuation. The font size cannot be changed and no additional fonts can be added to the machine.
This one also has a mirror stitch function which allows you to flip a decorative stitch for alternating patterns of the same design. Twin stitching is also doable and a twin needle is included.
Brother XR9000 Presser Feet
(Back to Top)
The Brother XR9000 sewing machine comes with 7 snap on presser feet. The Zigzag foot has a small black button (leveling button) on the back that you can push when you come to a high cross seam in your project or any change in fabric height. Pushing the button keeps the presser foot level so that it works over those height changes without dropping stitches.
Presser feet include:
Zigzag (General Purpose)
Buttonhole Foot
Overcasting Foot
Monogramming Foot
Zipper Foot
Blind Stitch Foot
Button Fitting Foot
Brother XR9000 Sewing Machine Functionality
Controls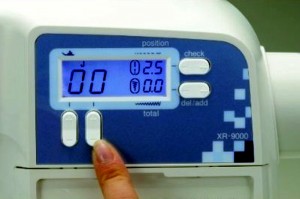 Three sets of buttons and controls operate all functions. Running across the body of the sewing machine just above the work area are four buttons:
Start/Stop button – this button can be used in place of the foot pedal to start and stop the sewing operation.
Reverse/Reinforcement button – used to reverse the feed dogs in order to sew in the opposite direction or, for select stitches, to sew a reinforcing stitch to lock the threads in place.
Needle Up/Down button – lowers or raises the needle as needed to start or stop sewing.
Speed Control Slider – controls the maximum speed of the sewing machine with 3 different speed settings. Great for beginners or for working on delicate, complex techniques.
To the left of the LCD screen are two buttons, each with their own LED indicator light. One button tells the sewing machine you will be working with utility stitches. The other tells the sewing machine to move to the letter font stitches.
There are four keys located near the LCD screen. Two arrow keys below the LCD screen are used to select your desired stitch. Two arrow keys to the right of the LCD screen are used for setting stitch width and length.
Features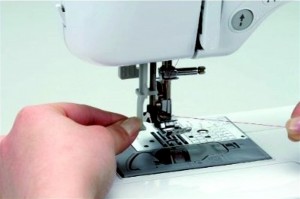 Today's sewing machines are so much easier to use than the one I grew up with and Brother does a great job of putting lots of nice features in all their models, including this model.
You'll get automatic needle threading, a built-in thread cutter, computerized stitch selection, a handy flip chart referencing all of the built in stitches right on the front of the sewing machine, a Quick-Set bobbin (drop-in), automatic bobbin winding, drop feed capability, a bright LED work light, a see-through bobbin cover, and free arm sewing (just remove the flat-bed attachment).
An extra spool pin hole is built into the sewing machine and accessories include an additional spool pin for twin needle sewing. Thread delivery is vertical, meaning the top thread spool stands vertically during sewing.
The needle has two positions – left and center. Being able to move off of center helps you get closer to the edge of thin seams.
The Brother XR9000 default setting is to make a beeping noise each time you push a button. Many of you will want to turn that off after you've established some comfort level with your machine. The manual walks you through how to make that change.
While this is a light-weight sewing machine, its design is sturdy and holds up well to even projects that include large amounts of fabric. It can handle different fabric weights and thicknesses – even paper sewing for specialty crafts.
Compare the Brother XR9000 to the SQ9000 and the CS6000i
The SQ9000 (which I wrote about here) has 3 more presser feet (Walking Foot, Quilting Foot, and the ¼" Foot), the quilting guide, and an eyelet punch. Everything else is identical including stitches, the font, and the sewing machine controls.
The CS6000i (read more about that here) has 20 fewer stitches, does not have the letter font, but does include the Walking Foot, Quilting Foot and the Quilting guide.
Dimensions: L 16" x H 11.05" x D 6.7"
Weight: 9.9 pounds
Video Review of the Brother XR9000 Sewing Machine
While the color is different, this video review below is demonstrating the XR9000. You can get a feel for the size of the sewing machine, the quality of the stitches, and how easy it is to use.
Brother XR9000 Sewing Accessories
(Back to Top)
The following sewing notions and accessories are included:
Hard Cover
Seam Ripper
Bobbin (4)
Needle Set (1 size 11, 1 size 14, 1 size 16 – this covers all fabric types except leather, which is great, but you may want to order a few more size 14 needles to keep on hand)
Twin Needle
Ball Point Needle
Cleaning Brush
Screwdriver
Extra Spool Pin
Customer Reviews of the Brother XR9000 Sewing Machine
For it's light weight, compact size and low price, those who needed a sewing machine for occasional sewing and home projects like the features on this model. However, those who sew more frequently (read as "avid, weekly" sewers) wished they had something slightly more sturdy.  Beginner quilters will enjoy the features and extra accessories included and won't have an issue learning to use the controls.
You can read more here: Consumer Ratings
Average Rating: 3.7
Pros, Cons & Manual

Pros: Lightweight but sturdy. Operates quietly. Oversized work table attachment. Twin needle capable. Hard carrying case included. Great stitch variety for different kinds of sewing. Includes an alphabet font for monogramming.  Easy operation for beginners.

Cons: Presser foot pressure is not adjustable. Discontinued model.
Manual available online here: Manual
Manufacturer's Warranty: As of this date, Brother offers a 1 year warranty on parts and labor, a two year warranty on electronic pattern control and selection components (parts only), and a 25 year warranty on shafts and rods on the machine head.
For current pricing information, follow this link:
COMPARE PRICES
Amazon
Features Summary Review: