**This post may contain affiliate links for products I recommend. If you click a link and buy something I may receive some compensation. This does not change the price you would pay.**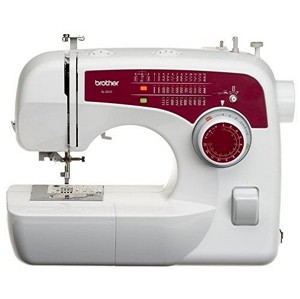 The Brother XL 3510 sewing machine follows the design of the other XL models, with easy to navigate dial controls, knobs and a large reverse button up front.
Compared to its "brothers" (pun intended) in the same line, it's the second best choice for beginner quilters because of the nice decorative stitch selection.
Geared towards garment construction, as well, this one is very easy to operate and well liked by consumers.

Table of Contents
(Click Ahead!)
Stitch Count / Presser Feet / Functionality / Accessories / Customer Reviews / Pros, Cons & Manual
REVIEW SUMMARY
MODEL: Brother XL3510 Sewing Machine
REVIEWED BY: Erin
RATING: 4.0


LAST UPDATED: April 9, 2015

COMPARE PRICES
Amazon
Like my last Brother sewing machine review, the piece that has me confused is the price. At around $150-170, this model costs more than the Brother XL 3750 which offers the same stitches, a quilting accessory pack, an extra wide work table and a 1-step buttonholer for less money.
They look nearly identical, too, other than color accents. If your heart is set on a sewing machine with red accents, who am I to stop you?
If, however, functionality is more important, don't miss comparing it to the 3750 here: Compare the Two
More than a Starter Set of Stitches
(Back to Top)
The Brother XL 3510 has 35 built in stitches and 72 stitch functions plus a 4-step buttonholer with stitch balance control for precision buttonholes every time. The provided stitches can be used for appliqué and monogramming, too. Stitch width is adjustable to 5 mm through dial at the top of the machine. Stitch length is adjustable to 5 mm by a dial surrounding the stitch selection knob on the front of the machine.
Built-in Stitches include:
4-step Buttonhole
Straight
Zigzag
Blind Hem
Shell Tuck
Elastic

2 Stretch Blind Hemstitches
Elastic Shell Tuck
Double Action stitch
Bridging Stitch
Rampart
Triangle
Triple Stretch
Triple Zigzag
3 Stretch Overlock stitches
Elastic Overlock
Feather
2 Arrowhead stitches
5 Decorative stitches
Smocking stitch
2 Comb stitches
Leaf
Tree
Legs
Fagoting stitch
Decorative Hem stitch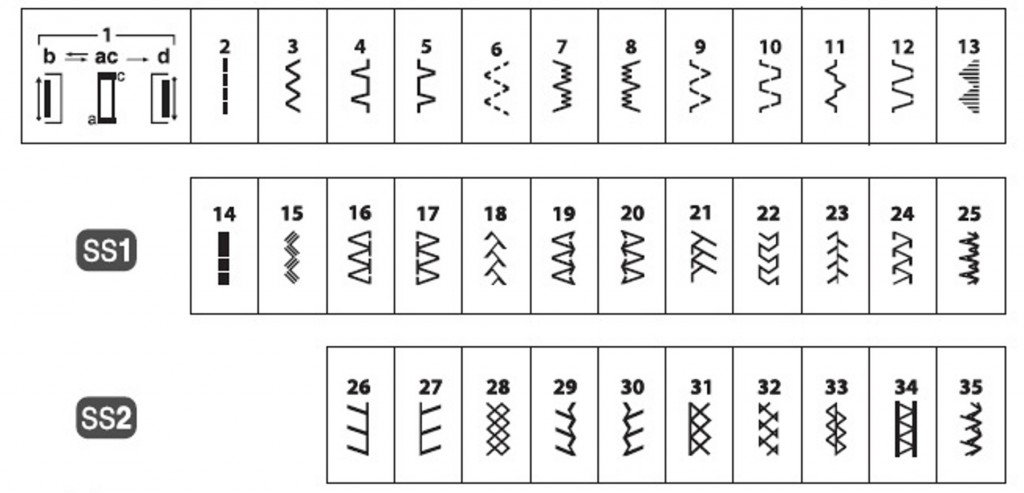 Utility Use Presser Feet
(Back to Top)
There are four included snap-on presser feet:
General Purpose foot
Zipper foot
Buttonhole foot
Button Sewing foot
Lightweight Machine with Basic Functionality
(Back to Top)
Perfect for garment construction, decorative sewing, and quilting, this is a slightly advanced beginner sewing machine.
Free-arm sewing is possible with removal of the extension table. It is extremely light-weight and can easily be carried or carted around. A built-in automatic needle threader helps tired fingers and eyes more quickly thread the needle.
The quick-set, drop in bobbin system reduces thread jam and loading frustrations. The machine uses a vertical delivery system for the top thread. Top speed is 800 stitches per minute, about top of the line for machines in this price range. A twin needle and extra spool pin are provided for twin needle sewing.
Upper thread tension is adjustable through use of a dial located at the top of the machine. The buttonhole adjustment screw is located on the front of the machine along with the good-sized reverse button (you can't miss it!).
There is storage space inside the machine arm for the included accessories. As with the other XL models, the presser foot lever is located inside the work space, to the right of the needle rather than at the back of the machine which sometimes bothers more experienced sewers who are used to the traditional location and left-hand access to the lever.
Dimensions: L 15.4″ x H 15.4″ x W 6.7″
Weight: 11 pounds
Accessories in the Box
(Back to Top)
The Brother XL3510 comes with these accessories:
3 bobbins (plus one in the machine)
3 additional HAX 130 needles (plus one in the machine)
Twin needle
Extra spool pin for twin needle sewing
Screwdriver
Darning Plate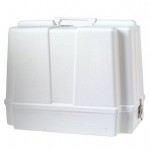 The The Brother 5300 Universal Sewing Machine Carry Case fits this machine but must be purchased separately.
Users Like How it Performs
(Back to Top)
Overall, sewers like the ease of use, simple operation, and stitch selection.
Mechanical machines are limited in the number of decorative stitches they offer but there's a lot less to learn so you can get up and go easily with this model even if you're just starting out. It's solid and sturdy, has easy stitch selection controls, and manages decently through layers of fabric.
Joann Fabrics shows one review with a rating of 5.0. Two reviews on Overstock for a score of 4.5.
Average Rating: 4.0
Pros, Cons & Manual
(Back to Top)


Pros: Nice selection of decorative stitches. Easy to set up. Smooth stitch control. Twin needle capable.



Cons: Workspace is too small for large projects like bedspreads. Does not have drop feed dog capability. I'm also throwing "price" in as a con on the Brother XL 3510 considering the comparison to the Brother XL 3750 with more options and a lower price.

Manual available online here: Manual
Manufacturer's Warranty: As of this date, Brother offers a 1 year warranty on parts and labor, a two year warranty on electronic pattern control and selection components (parts only), and a 25 year warranty on shafts and rods on the machine head.
Check these two stores:
COMPARE PRICES
Amazon
Features Summary Review: