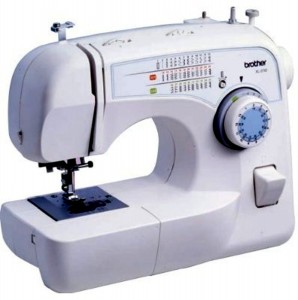 The Brother XL-3750 Sewing Machine comes with a great assortment of extras that make this a value buy.
First, it is appropriate for quilting if you get the bonus accessory pack (watch for that indication wherever you buy the machine).
Second, it has 35 built in stitches and 73 "stitch functions".
A stitch function is a variation on a built-in stitch. When comparing stitch counts, look first at built-in stitches and then at how each machine allows variations of those stitches either through reverse patterns, stitch width modifications or stitch length modifications.

Table of Contents
(Click Ahead!)
Stitch Count / Presser Feet / Functionality / Accessories / Customer Reviews / Pros, Cons & Manual
REVIEW SUMMARY
MODEL: Brother XL3750 Sewing Machine
REVIEWED BY: Erin
RATING: 4.1


LAST UPDATED: April 10, 2015

COMPARE PRICES
Amazon
Walmart
More than Just the Basic Stitches
(Back to Top)
Let's start by explaining the distinction between "stitches" and "stitch functions". They are not the same thing. Stitches are the patterns made by the thread while sewing. There are many different kinds of stitches. Some are meant for the straight-forward joining of two pieces of fabric, like a straight stitch. Some are meant to make a decorative hem. Some are meant to be used only as decoration and added flair on projects, like quilts.
A "stitch function" is a moderation of a stitch that allows it to go in a different direction or be of a different width or length. A stitch function still requires the use of a machine's available stitch pattern, or "built-in stitches".
The Brother XL3750 makes a point of describing itself as a "73 stitch function machine". To be clear, it comes with 35 built in stitches (each having multiple stitch functions to get to the count of 73), as follows:
1-step automatic buttonhole
Straight stitch
Zigzag
Blind hem
Shell tuck
Elastic

2 Stretch blind hem stitches (Blind Hem and Shell Tuck)
Elastic shell tuck
Double action
Bridging
Rampart
Triangle
Triple stretch
Triple zigzag
Stretch overlock (zigzag)
Elastic overlock
Feather
2 Arrowhead stitches
Leaf
Tree
Legs
2 Stretch Overlock stitches
Smocking
2 Comb stitches
Fagoting
Decorative hem
5 Decorative stitches
The Brother XL3750 has an extra wide zigzag stitch with a maximum stitch width setting of 7mm. The maximum stitch length is 5mm.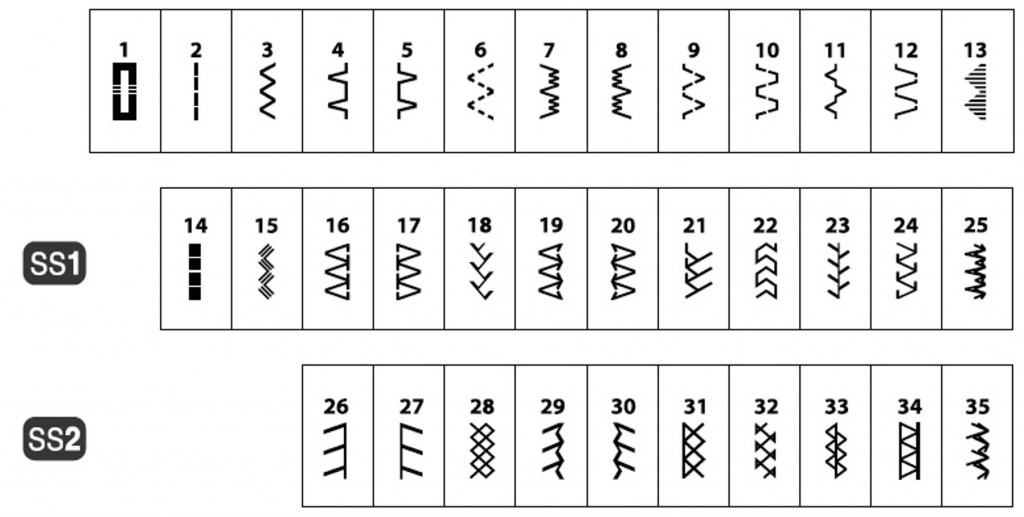 Presser Feet Plus Bonus Quilting Feet
(Back to Top)
Originally, the Brother XL3750 sewing machine came with 4 presser feet:
General presser foot
Zipper
Buttonhole
Button sewing foot
It now comes with a bonus pack of presser feet at no additional charge that includes:
Narrow Hemmer
Blind Stitch
Walking
Spring Action Quilting
It is this additional set of accessory feet that make the machine so enticing for beginners interested in quilting. If you are buying online, make sure the listing mentions the quilter reference or something like "bonus pack" or "bonus accessories".
Features Include Some Automation
(Back to Top)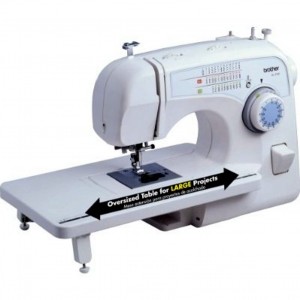 There are lots of nice features on the Brother XL3750 that are intended to make sewing a breeze. Dial controls for stitch selection, stitch width, and stitch length plus automatic needle threading, are a few.
The work space also converts into an extra wide work area which is beneficial when working on quilts or thick fabrics. Other features that beginners like to have are:
Automatic needle threader
Drop-in bobbin loading
1-step auto-sizing buttonholer
Snap in presser feet
Automatic bobbin winding system
See through bobbin area
Stitch width up to 7mm
Stitch length up to 5mm
Accessory storage inside the machine
Foot control
Speed up to 800spm
Dial controlled upper thread tension
Variable needle positions
Twin needle sewing (no additional equipment necessary)
Lit work area
Free arm sewing
Reverse sewing lever
Dimensions: H 15.4″ x W 11.4″ x D 6.7″
Weight: 12 pounds

Comparing the XL3750 and the XL2600i
One of the most popular pages on this site has to do with the machines that cost less than $100. This machine is just a stitch (pun intended) over that. So why would you choose this over something like the Brother XL2600i? Both have a similar body style, a six point feed dog and strong ratings but this one is more expensive.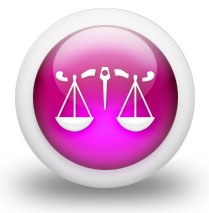 There are two significant differences. First, the XL2600i has 25 built in stitches compared to 35 on the XL3750.
The same stitches as are on the XL2600i are all on the XL3750 but there are 10 additional stitches which include two stretch overlock stitches and some decorative stitches, including the smocking stitch. The more you plan on working with stretchy material (for making swimsuits or working with jersey), the more stretch stitches you may need.
The smocking stitch is useful for adding decorative accents to shirts or dresses. When my mother made the baptism gown for one of my nieces, the pattern called for the top portion of the gown to be smocked. Because she didn't have that stitch on her machine, she chose to take that section of the pattern to her local seamstress to have that step completed.
The second difference has to do with the overall size of the machine. The XL3750 is just a few inches longer and offers a slightly larger work space.
So, for an extra $30 or so, you get more stitches, more flexibility in the type of work the machine can do, and a slightly bigger area in which to work.
These Accessories Fit in the Free Arm
(Back to Top)
The Brother XL3750 comes with the following sewing accessories:
Soft carrying case
4 bobbins
4 needles
Twin needle pin
Twin needle
Darning plate
Screwdriver
A Good Starter Machine with a Few Extras
There are over 200 Brother XL-3750 reviews available online from buyers who have purchased and used the machine. Reading them all took some time, but I did it. (Hopefully so you don't have to because it's TIME CONSUMING!)
I'm always looking for the common trends. There's always going to be someone who ran into some sort of problem with their purchase or had something go wrong but I've learned that looking for patterns or repeating issues is much more meaningful. Ignore the one-offs and find the patterns – good or bad.
A majority of users really like the XL-3750 for a number of reasons. It's a slight step up from the most basic sewing machines because it offers more stitches than most of those machines but isn't absurdly priced, either. It's easy to use, reliable, and lightweight.
A great machine one step up from the most basic options. If you need something for alterations and small projects with as many stitches as possible, this is a solid choice.
Average Rating: 4.1
Pros, Cons & Manual
(Back to Top)


Pros: Easy to set up. Converting to the extra wide work table is easy. Automatic threader works well. Lots of added attachments. Cloth carrying case. Lightweight. See-through bobbin area to check on remaining thread. Relatively quiet. Great for quilting. Easy bobbin winding.



Cons: Speed is too fast and foot pedal doesn't help slow it down. Several people mentioned issues with thread tension to the point of frustration. Cord for the foot pedal is too short. Instructional manual is decent but not thorough enough on some topics. Work light is a bit dim. Presser foot pressure is pre-set, not variable. No drop feed lever.

Manual available online here: Manual
Manufacturer's Warranty: As of this date, Brother offers a 1 year warranty on parts and labor, a two year warranty on electronic pattern control and selection components (parts only), and a 25 year warranty on shafts and rods on the machine head.
Two stores that have consistently had the lowest prices on this machine:
COMPARE PRICES
Amazon
Walmart
Features Summary Review: