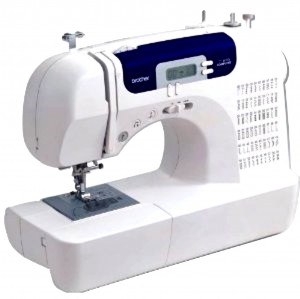 Brother sewing machines are incredibly popular as a choice for home and craft sewing. They offer regular machines and specialized, combination models capable of handling quilting and embroidery, too. You can find them being used in homes, schools, and at community sewing classes. The company has made award winning innovations in design, stitch quality, and automation.
While Singer was "the" sewing machine to own for years, changes in ownership and the availability of other brands have caused them to lose market share.

Brother Industries, Ltd, has captured some of that share and for good reason. Their sewing machines tend to be well rated by consumers, competitively priced, and widely available. Just check out the features available on the highly rated CS6000i (see the full list here). Whether you are looking for the best sewing machine for kids or are in the market for a commercial sewing machine for your business, there is another model that will fit your needs.
The parent company is headquartered in Japan and known internationally for its home and office products such as printers, labeling systems, and typewriters (Wow – I haven't seen a typewriter in years. I had no idea they were still being made!).
In 2007, Brother became an official licensee of the Project Runway label. Several limited edition models are available that carry the show's logo and are favored by the show's fans and budding fashion designers for garment construction. The CE 5500PRW, which I've written about here, is one such model.
Most of this is probably not news to those shopping for a sewing machine these days but the most asked question is more difficult to answer and that is:
Where are Brother sewing machines actually made?
Brother follows a regional business model. This means that while their corporate headquarters are in Japan, they do have physical operations in each of the major countries in their retail footprint. Their corporate headquarters are located in New Jersey and their US regional production facility is in Tennessee. You can see a complete list of regional offices and production facility locations on their website here: http://www.brother.com/en/corporate/network/index.htm.
In 1978, they built its first factory outside of Japan in Taiwan but then went on to build manufacturing facilities in their other major locations, such as the US (Tennessee), in order to reduce shipping costs and import/export taxes.
That being said – if I browse the web I see plenty of used listings that mention "made in Taiwan". I don't know if that means that their machines made in Taiwan are still imported to the US or if those machines just happened to be made before the US factory was put into service.
This means that unless you're buying the machine in person and can view the manufacturer's sticker on the bottom of the machine, you may not be able to tell in advance where the machine was actually made.
The good news is that Brother does follow ISO standards for production and quality regardless of the originating factory. Therefore, quality should be consistent across the board. Based on the overall positive ratings it is apparent that they have been able to ensure quality, reliable performance no matter which production plant manufactured a particular sewing machine.