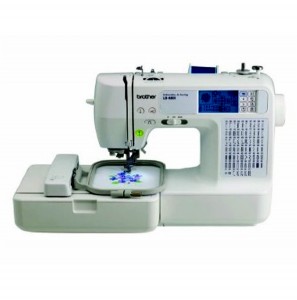 The Brother LB6800PRW sewing machine may be the replacement model for the popular SE400 combination sewing and embroidery machine. The only difference between the two is the model number, the Project Runway label and the included rolling tote bag. The other difference? The LB6800PRW is usually in stock whereas the SE400 has slowly been disappearing from retailers inventories.
Brother's year end rebate through 2010 for the SE400 was perhaps a sign of things to come. Since the start of 2011, finding the SE400 in stock has been rough but it is still regularly available at places like Amazon.
I have watched the online trends for both models for quite some time. It's not unusual for a manufacturer, especially Brother, to produce the exact same sewing machine under multiple model numbers. There are a number of reasons for doing this – a private label relationship with another well-known brand or store is probably number one (i.e., Project Runway).
But at some point does it make sense to cut that down to fewer model numbers? Was that the goal of the rebate – to drive down remaining supplies? Us outsiders may never know the reasoning behind the moves made by sewing machine manufacturers.
I've wondered for awhile, though, as each day it became harder and harder to find the SE400. It's still showing up for sale on Amazon, too, but the listing will often say "Temporarily Out of Stock". You can still order it that way, but since it's not in stock you'll have to wait some undefined period of time for it to arrive. Another popular, low priced, online option was Walmart but they've been out of stock all month.
What I do know, though, is that the SE400 offered a very affordable entrance to machine embroidery for the home sewer and hopefully more people will discover that they can still find that incredible blend of features in the Brother LB6800PRW. So, if you've been shopping for the SE400 without any luck, make sure to look for it under the LB6800PRW model number. The rolling tote bag? Just the icing on the cake.