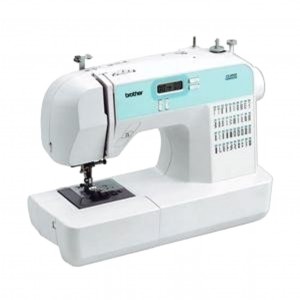 The Brother CE4000 sewing machine
has a nice assortment of stitches including some adorable decorative stitches, great automation and easy set up features for beginners
and at under $200 it's quite a deal.
It doesn't get the attention it deserves, though, for two reasons: its companions the Brother ES2000 and the CS6000i.
I don't know who or what is driving this issue, but the other two sewing machines cost the same or less and one, in particular, has SIGNIFICANTLY greater functionality.

Table of Contents
(Click Ahead!)
Stitch Count / Presser Feet / Functionality / Accessories / Customer Reviews / Pros, Cons & Manual
REVIEW SUMMARY
MODEL: Brother CE4000 Sewing Machine
REVIEWED BY: Erin
RATING: 2.8


LAST UPDATED: April 9, 2015

COMPARE PRICES
DISCONTINUED
Why would Brother do this? I sometimes wonder if they're running some sort of marketing tests when a better machine from the same brand has a lower price.
As a result, I'm going to dig right into the differences so as not to keep you in suspense. (I know – you were just holding your breath, weren't you? 🙂 )
Brother CE4000, ES2000 and CS600i Comparison
| Differences | CE4000 | ES2000 | CS6000i |
| --- | --- | --- | --- |
| # of Stitches | 40 | 40 | 60 |
| Maximum Stitch Width | 7mm | 7mm | 7mm |
| Maximum Stitch Length | 5mm | 7mm | 7mm |
| Speed Control | No | No | Yes |
| Start/Stop Button | No | No | Yes |
| Extra Wide Table Attachment Included | No | No | Yes |
| Walking Foot Presser Foot Included | No | No | Yes |
| Hard Cover Case Included | No | No | Yes |
| Price | Not Available | | |
Compare the features and stitches on the Brother CE4000 sewing machine with those on the ES2000 and CS6000i.
This and the ES2000 (read the report here) are exactly the same except for the color accents on the front and the fact that the ES2000 has adjustable stitch length up to 7mm instead of 5mm. The CS6000i has everything the other two sewing machines have PLUS all of the other highlighted features.
The CS6000i is also about an inch longer, wider, and taller and weighs 2 pounds more than the CE4000 and the ES2000 but is still extremely lightweight. The control panels are identical except that the CS6000i has additional automation buttons for Start/Stop sewing and speed control.
Pretty clear which sewing machine is the better deal, right? I sometimes wonder if the manufacturers think we won't notice? (Actually, most must have noticed which would explain why reviews on Amazon have dropped in the past couple of years…) Or we'll be drawn to the color of a certain machine and go with looks over functionality? I don't know…the left side of my brain cannot find the logic.
(You can read more about the Brother CS6000i here: popular Brother sewing machine.)
Nice Set of Stitches and 7mm Width
(Back to Top)
There are a total of 40 built-in stitches. Stitch width is adjustable to 7mm on select stitches and stitch length is adjustable to 5mm which provides 77 total stitch functions. Included in the built-in stitch patterns are 5 styles of 1-step buttonholes.
Arrow keys below the LCD screen are used to select the stitch pattern number and the plus and minus keys to the right of the screen are used to change width and length settings.
I've included pictures of the stitch patterns below along with a reference guide to show the stitch names: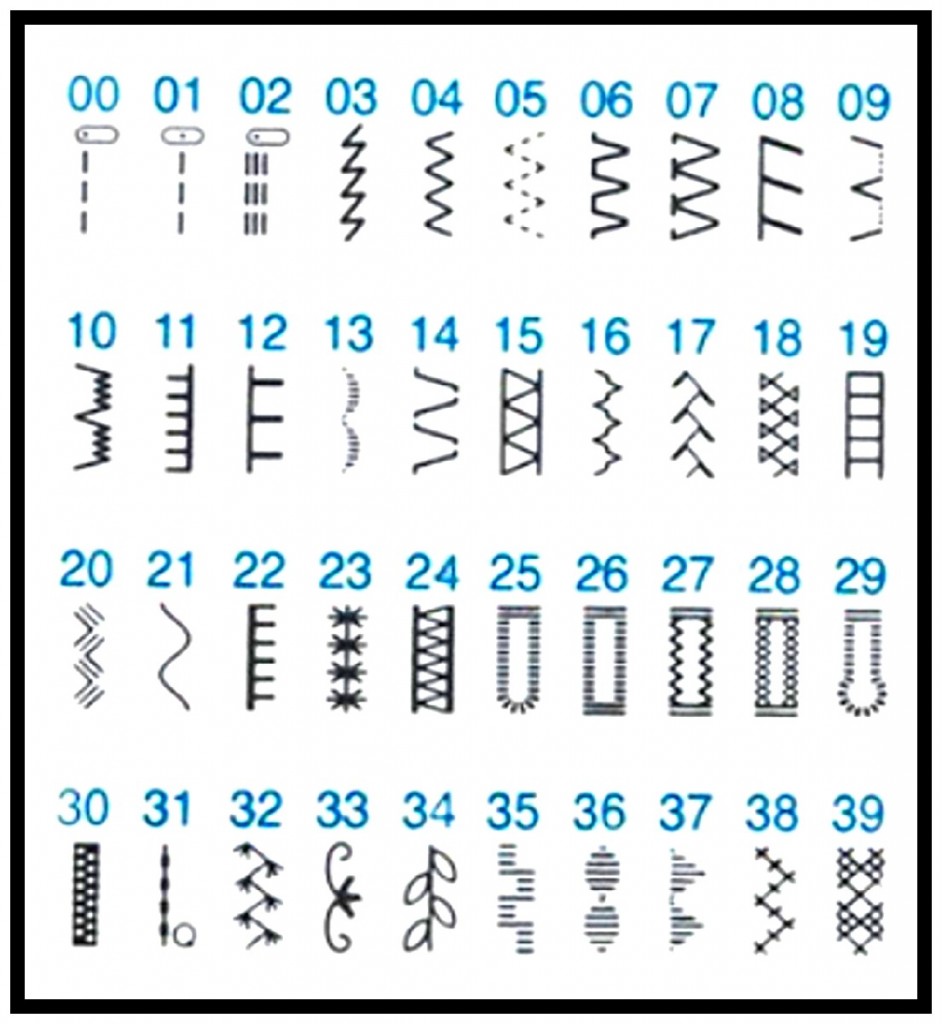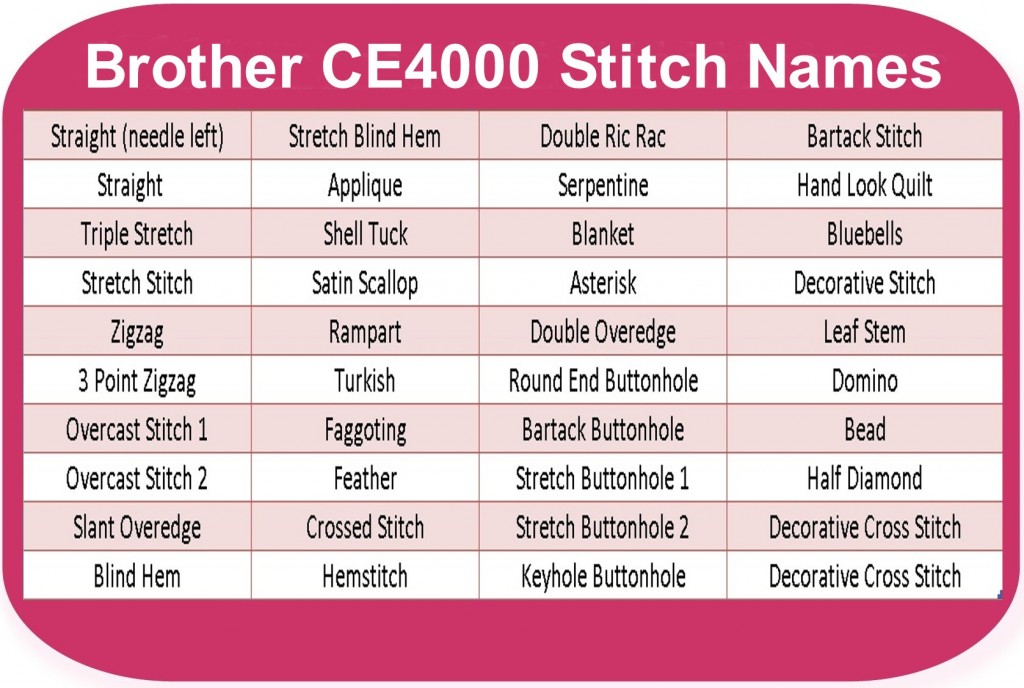 Basic Presser Feet and a Couple of Extras
(Back to Top)
Seven snap on presser feet are included with this sewing machine. Snap-on presser feet are really easy to change out as you just push a button to release the attached presser foot, slip the new one uner the presser foot arm, drop the lever and the new presser foot snaps into place.
The Zigzag foot also has a leveling button which helps it work over extra-thick seams or edges.
Zigzag foot (General Purpose)
Buttonhole Foot
Overcasting
Monogramming
Zipper
Blind Stitch
Button Fitting
Functionality
(Back to Top)
A number of the most desired machine set-up features are included:
Quick set drop-in bobbin
Automatic needle threader
Automatic bobbin winder
It does include some advanced sewing features as well:
Drop feed dog lever for free motion quilting, embroidery and darning
Variable needle positions
Adjustable thread tension
Twin needle sewing
The flat-bed removes for free-arm sewing, although it is a wider free-arm than average which can make getting some sleeves and cuffs over the free-arm a bit of an effort. The bobbin cover is see-through so you can quickly tell how much bottom thread is left in your machine.
There is a built-in carry handle and a work light over the needle arm. The LCD screen is clear and easy to read. The maximum sewing speed is 850 stitches per minute and the Brother CE4000 employs a six-point feed dog system which is very reliable for smooth fabric flow.
Thread delivery is vertical and an extra spool pin is included for the twin needle functionality. Although there is no needle up/down button, you can reset the machine to default to either stopping with the needle in the up position or in the down position by holding down one of the stitch setting buttons while turning on the machine. The manual walks you through how this is done.
Using the right needle, this machine is capable of working with thin, medium, and thick weight fabrics as well as jersey and other stretch materials.
Best of all, this sewing machine never needs to be oiled. Just brush out the lint and dust in the bobbin compartment periodically to keep it clean.
Dimensions: – L 16.1" x H 11.4" x W 6.7"
Weight: 11 pounds

Accessories
(Back to Top)
A number of sewing accessories come with the machine and store easily inside the free-arm compartment:
Seam Ripper
4 Bobbins
3 Needles
Twin Needle
Cleaning Brush
Screwdriver
Extra Spool Pin
Unfortunately, Ratings are Poor
For a couple of reasons, this isn't an overly popular choice. When it was widely available (which it isn't today), it had a price tag higher than comparable models that came with more features. It also tends to be sensitive when it comes to threading and this led to some frustration.
Average Rating: 2.8
Pros, Cons & Manual

Pros: Smooth operation. Easy to use. Runs quietly. Nice selection of utility and decorative stitches. Drop feed dog lever. Twin needle capable. Drop in bobbin.

Cons: Presser foot pressure is not adjustable. No hard cover case included.
Manual available online here: Manual
Manufacturer's Warranty: As of this date, Brother offers a 1 year warranty on parts and labor, a two year warranty on electronic pattern control and selection components (parts only), and a 25 year warranty on shafts and rods on the machine head.
Features Summary Review: