Beginners like the Brother ES2000 sewing machine because they can get
a computerized model with some automation features, like an automatic needle threader, for a reasonable price
. While it's been available for years, it's still a popular machine.
Use of high-quality plastics keeps it light-weight at 11 pounds and the built in carrying handle makes it easy to move around the house or to and from sewing classes. This machine offers easy set up, a smoothly operating foot pedal, and a quick drop-in bobbin system.

Table of Contents
(Click Ahead!)
Stitch Count / Presser Feet / Functionality / Accessories / Customer Reviews / Pros, Cons & Manual
REVIEW SUMMARY
MODEL: Brother ES2000 Sewing Machine
REVIEWED BY: Erin
RATING: 4.0


LAST UPDATED: April 10, 2015

COMPARE PRICES
Amazon
This is a sort of jack-of-all-trades sewing machine. It has a sprinkling of interesting features for mending, clothes construction, and quilting. Five auto-sizing, 1-step buttonhole styles make buttons on all kinds of fabrics a breeze. The selection of decorative quilting stitches means beginners can explore heirloom projects. Several hemming and overcasting stitches cover mending and alterations.
Even a Few Quilting Stitches for Good Measure
(Back to Top)
The Brother ES2000 comes with 40 built-in stitches and 77 stitch functions (variations of the 40 built-in stitches). Stitch selection is done through a set of four plus/minus push buttons surrounding the LCD display screen. These buttons are also used to select stitch width and length up to 7mm.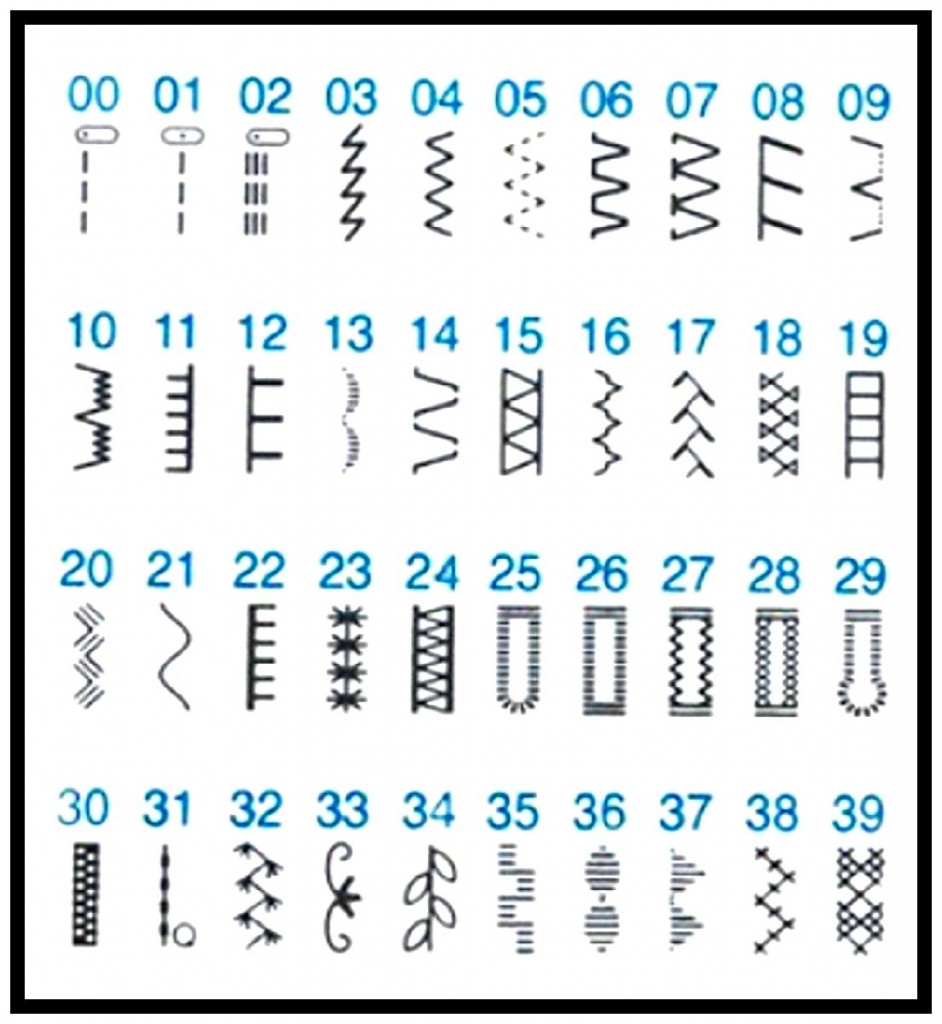 2 Straight stitches (center and left)
Triple stretch stitch
Stretch stitch
Zigzag
Three point zigzag
3 Overcasting stitches
2 Blind Hem stitches
Appliqué stitch
Shell Tuck stitch
Satin Scallop stitch
3 Joining stitches
2 Fagoting stitches
9 Decorative stitches
5 Buttonhole stitches (horizontal, regular, 2 stretch buttonholes, 2 keyhole buttonhole stitches)
Bar tack
Hand Look Quilting
3 Satin stitches
2 cross stitches
More Presser Feet than Some Competing Models
(Back to Top)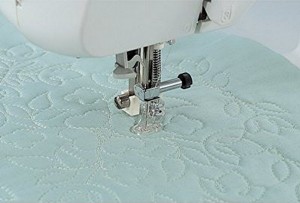 Plastic, see through snap-on presser feet guide the needle through the stitches. There are a total of 7 that come with the Brother ES2000:
General Purpose
Buttonhole
Overcasting
Monogramming
Zipper
Blind Stitch
Button Fitting
Nice Features and Automation
(Back to Top)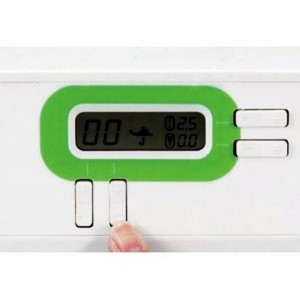 For beginners, sewing machines that are easy to operate are a blessing and the Brother ES2000 makes bobbin winding and loading as simple as can be with one-step bobbin replacement through their quick set drop in application. The machine worktable removes for free-arm sewing, the automatic needle threader makes getting the machine ready to sew easier on tired eyes and the machine comes with a set of needles to handle a variety of fabrics including cotton, taffeta, flannel, gabardine, satin, denim, corduroy, tweed and knits.
The feed dogs are a sturdy 6 points and do a great job of moving fabric through the machine.
It should be noted that the automatic needle threader does not work with specialty threads or needles outside of size 75/11-100/16.
A twin needle and second spool pin are provided.
Reverse is done through use of a push button located on the front of the sewing machine. Top thread is established through vertical thread delivery.
Maximum operating speed is 850 stitches per minute, thread tension is dial adjustable, and there is accessory storage within the machine body.
If the sewing machine runs into a problem, one of 6 error codes and one of three beeping sounds will indicate the nature of the problem and all codes are well defined in the instruction manual.
Dimensions: L 16" x W 11 ½" x D 6 ¾"
Weight: 11 pounds
Accessories
(Back to Top)
The Brother ES2000 comes with the following machine accessories:
Seam ripper
4 Bobbins
3 additional needles (plus the one that comes on the machine) 1 75/11, 1 90/14, and 1 100/16
Twin needle
Cleaning Brush
Screwdriver
Extra spool pin for twin needle sewing
Great Machine but the Price Holds it Back
Great machine for basic mending, clothes construction and quilting.
Thread tends to slip out of the needle if insufficient tail of thread is left at the start position. Tension thread adjustment can be difficult to work with for beginners. The sewing machine is easy to set up and signs on the machine help walk the user through the hooks and guides for the threading the machine.
NOTE: You might want to compare this to the Brother CS6000i before making any decision.
The ES2000 and the CS6000i are nearly identical. They come with the exact same user manual and there are only a few distinct differences you need to understand if you're torn between the two:
The CS6000i has all of the same stitches as the ES2000 plus an additional 20 stitches for piecing, quilting (stippling stitch), cross-stitch designs, and a few other decorative stitches.
The ES2000 has top and bottom thread sensors that tell you when the machine is running out of thread. The CS6000i does not.
The ES2000 does not have the Start/Stop button and speed control like the CS6000i.
The CS6000i is 2 pounds heavier, comes with an extension table, a hard cover and two more presser feet than the ES2000.

Your decision between these two machines (which have almost the same price) is whether or not the thread sensors on the ES2000 are more important to your work and your use of the machine than having all the other extras that come with the CS6000i.

You can read the review of the CS6000i here: Erin's Review of the CS6000i.

Average Rating for the ES2000: 4.0

Pros, Cons & Manual

(Back to Top)
Pros: Easy to set up. Easy maintenance. Thorough operating manual. Automatic needle threader works as designed. Quiet. Handles 2-3 layers of folded fabrics easily including heavy weight denim (just make sure to use the right needle). Variable needle positions. Optional quilting feet are available for separate purchase.

Cons: Dim work lamp. Zipper foot does not adjust easily for use with different sized zippers. Presser foot pressure is not adjustable. Specific bobbin model required (not able to handle bobbins from other machines). No cover is included.

Manual available online here: Manual

Manufacturer's Warranty: As of this date, Brother offers a 1 year warranty on parts and labor, a two year warranty on electronic pattern control and selection components (parts only), and a 25 year warranty on shafts and rods on the machine head.

Check these two stores for the lowest prices online:

COMPARE PRICES
Amazon

Features Summary Review: