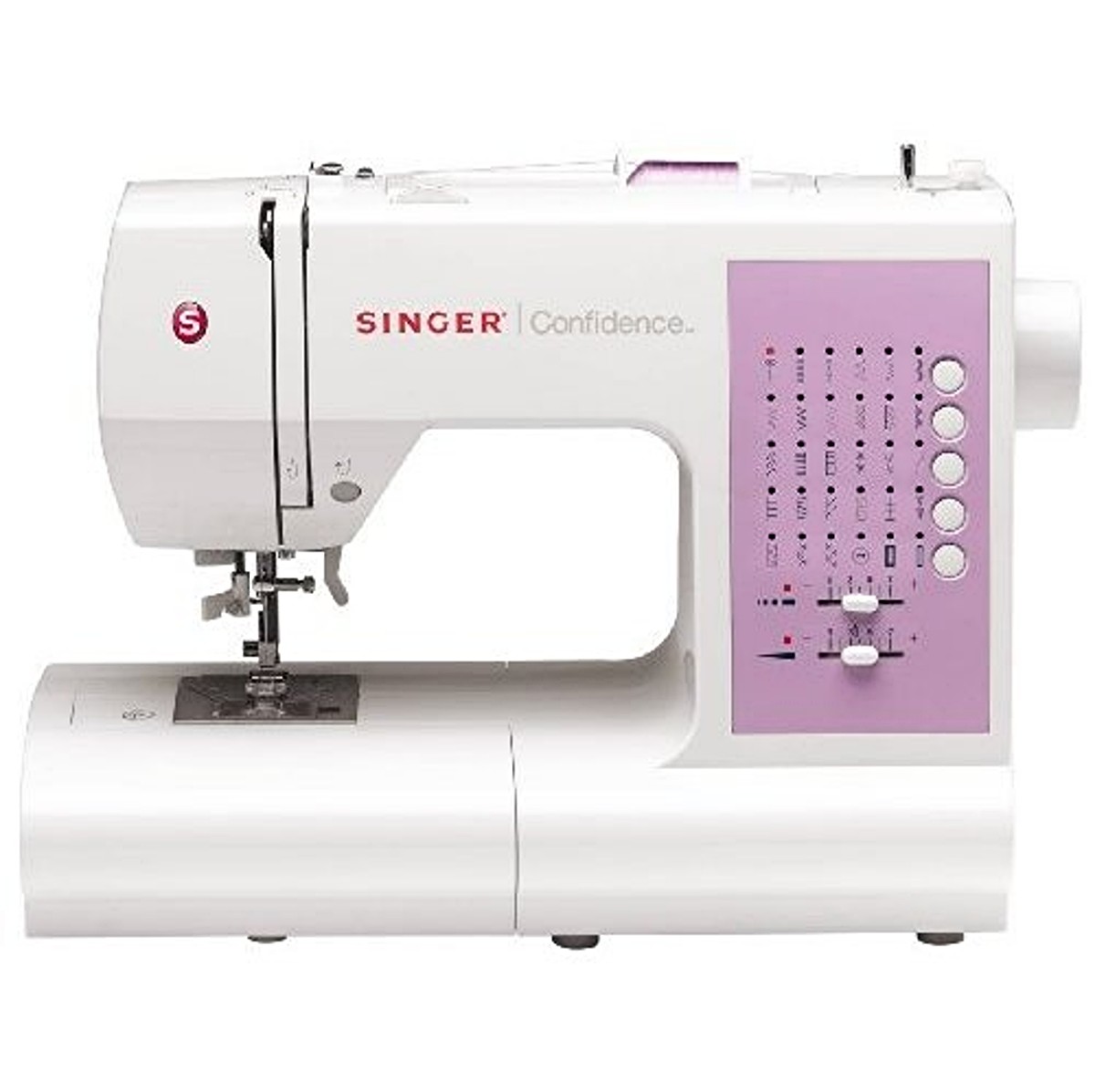 The Singer Confidence 7463 sewing machine is the entry level model of this popular line from Singer and is just as easy to use as the others in the line-up.
Simple, push-button controls are used for stitch selection and other sewing operations. It's a pretty shade of pink, too. However, it is not without its problems.

Table of Contents
(Click Ahead!)
Stitch Count / Presser Feet / Functionality / Accessories / Customer Reviews / Pros, Cons & Manual
REVIEW SUMMARY
MODEL: Singer Confidence 7463 Sewing Machine
REVIEWED BY: Erin
RATING: 2.8


LAST UPDATED: April 9, 2015

COMPARE PRICES
Amazon
Overstock
In fact, after reading over 30 reviews of this machine I suddenly had a vision of my teenage son spitting out his favorite phrase: "Awkward."
That's exactly how I felt after I read some of the negative ratings. Now, there were plenty of users who LOVED this machine but keep in mind that when I dig in to do a review, I look at everything I can find online so I get a pretty good snapshot not only of each specific model but also how that model lines up with comparable machines based on user opinions. From there, you have to subjectively weigh the good and the bad to get a balanced take on the machine's performance. This one just didn't leave me feeling all warm and fuzzy.
A Mid-Range Set of Sewing Stitches
(Back to Top)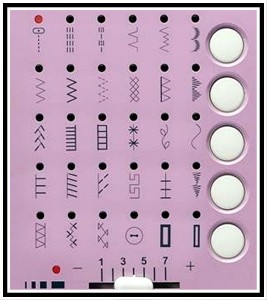 One positive is certainly the selection of utility and decorative stitches. There's a little something for every kind of sewing a beginner might want to try. The machine comes with 30 built in stitches including 2 1-step buttonholes. Stitch width and length are adjustable to 7mm depending on the selected stitch.
The 30 built in stitches are shown on the front of the machine in five rows with six stitch patterns in each row. Next to each row is a pattern selector button. Push the button to cycle through that row's set of stitches until the LED indicator for the desired stitch is lit.
| | | | | | |
| --- | --- | --- | --- | --- | --- |
| 1 | Straight | 11 | Overedge | 21 | Slant Overedge |
| 2 | Straight Stretch | 12 | Pyramid | 22 | Greek Key |
| 3 | Hand-Look Quilt | 13 | Feather | 23 | Entredeux |
| 4 | Regular Blindhem | 14 | Pin | 24 | Arrowhead |
| 5 | Stretch Blindhem | 15 | Ladder | 25 | Double Overlock |
| 6 | Crescent | 16 | Star | 26 | Criss-Cross |
| 7 | Zigzag | 17 | Vine | 27 | Crossed |
| 8 | Ric-Rac | 18 | Serpentine | 28 | Button Sewing |
| 9 | Multi-Stitch Zigzag | 19 | Blanket | 29 | Wide Bartack Buttonhole |
| 10 | Honeycomb | 20 | Slant Pin | 30 | Narrow Bartack Buttonhole |
Easy Snap On Presser Feet
(Back to Top)
It comes with five, snap-on presser feet. The presser foot lever has two height settings – down and up, although you can manually push the lever up one more level to remove thicker fabrics or in order to change the presser foot.
General Purpose Foot
Zipper Foot
Satin Stitch
Blind Stitch
Buttonhole Foot
Functionality
(Back to Top)
There's an automatic needle threader, the Singer Drop & Sew bobbin system (a top drop-in bobbin that does not require you to bring up the bottom thread), 13 variable needle positions, and horizontal thread delivery for smoother thread flow.
It is constructed of molded plastic over a heavy duty metal frame and the extension arm removes to allow for free-arm sewing. The extension table also provides storage for the additional accessories that come with the machine.
Thread tension has an automatic setting but is adjustable as needed. A reverse button located on the front of the machine will keep the machine reverse sewing as long as the button is pushed or can be used to tack off the beginning and ends of stitches.
Rather than having a drop feed lever for free motion work, there is an included feed cover plate. This plate prevents the feed dogs from grabbing and feeding the fabric while the machine is in operation which gives you the control you need for those more free flowing fabric arts.
There is an LED work light over the work space and a built in carry handle at the top of the machine.
Dimensions: Dimensions – L 17-1/5" x W 12 1/2" x D 8"
Weight: 16 pounds

Accessories
5 pack of needles
4 bobbins
Auxiliary spool pin (to accommodate larger spools of thread)
2 felt discs for spool pins
3 spool caps (mini, small, and large)
Buttonhole opener/Seam Ripper and Brush
Screwdriver
Darning plate
Mixed Comments from Users
(Back to Top)
This is where things get a bit challenging. In total, there were 36 reviews on various shopping sites for the Singer Confidence 7463. The weighted average for all of those reviews is a rating of 3.9.
There were several comments by reviewers who said their machine started making a rattling noise, that the timing mechanism became off relatively quickly, and that the machine needed to be returned or repaired. This was not just from one person but several comments from different people who had purchased and used this model.
This has the same size and weight as all of the Confidence line. All followed the same platform, design, and construction. The differences have to do with the degree of automation built into the machine and the number of built in stitch patterns available on each. Yet, comments about thread tension, timing and jamming did not come up on the other Confidence models. Makes you wonder what construction differences might have caused this phenomenon.
Many other comments were much more favorable and raved about how easy this machine was to use, how quietly it ran, that it was light weight and very portable and even fun.
Consumers liked the choice of stitches, said it was a great machine for beginners, and that the instructions were easy to follow.
A couple of specific comments were made in regards to functionality: the presser foot lever is a bit stiff, no compatible ¼" foot could be located for separate purchase, and the ¼" seam guide on the needle plate is inconveniently located right over the feed dogs.
Average Rating: 2.8
Pros, Cons & Manual
(Back to Top)


Pros: Great variety of stitches for a beginner machine. Easy to use. Horizontal thread delivery.



Cons: No drop feed dog functionality. No needle up/down control. No case or cover included. Presser foot pressure is not adjustable. Requires class 15J bobbins.
Manual available online here: Manual
Manufacturer's Warranty: As of this date,the warranty in the US is 25 year limited on the machine head, limited 5 year warranty on motors, light, assembly, wiring, switches, speed control and electronic components, and a limited 1 year warranty on adjustments, belts, rings, bulbs, and attachments. As is standard with most warranties, the warranty may be void if certain requirements are not followed.
COMPARE PRICES
Amazon
Overstock
Features Summary Review: