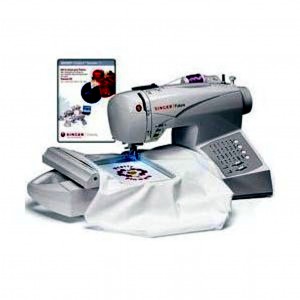 The Singer CE 150 Futura tries to deliver maximum functionality at a lower price. Did it miss the mark?
It is certainly aptly named – "Futura" is perfectly suited to the ergonomic placement of the control panel, the wide base, and the spacious work area.
For beginners, entry level combination sewing machines are a great way to get into machine embroidery.

Table of Contents
(Click Ahead!)
Stitch Count / Presser Feet / Functionality / Accessories / Customer Reviews / Pros, Cons & Manual
REVIEW SUMMARY
MODEL: Singer CE-150 Sewing Machine
REVIEWED BY: Erin
RATING: 3.4


LAST UPDATED: April 9, 2015

COMPARE PRICES
Amazon
Walmart
The concept, too, is understandable – save money by having consumers use their own computer as the embroidery hardware rather than build embroidery memory and space into the machine itself. Pass the savings along to the consumer by offering a competitively priced combination sewing and embroidery machine.
The final product? Good for sewing but confusing, finicky, frustrating embroidery performance.
Singer CE 150 Futura Sewing Machine Stitches
(Back to Top)
For sewing, there are 24 built in stitches with which you can accomplish most types of sewing. Make your own clothes, make great new home furnishings, and even take up quilting.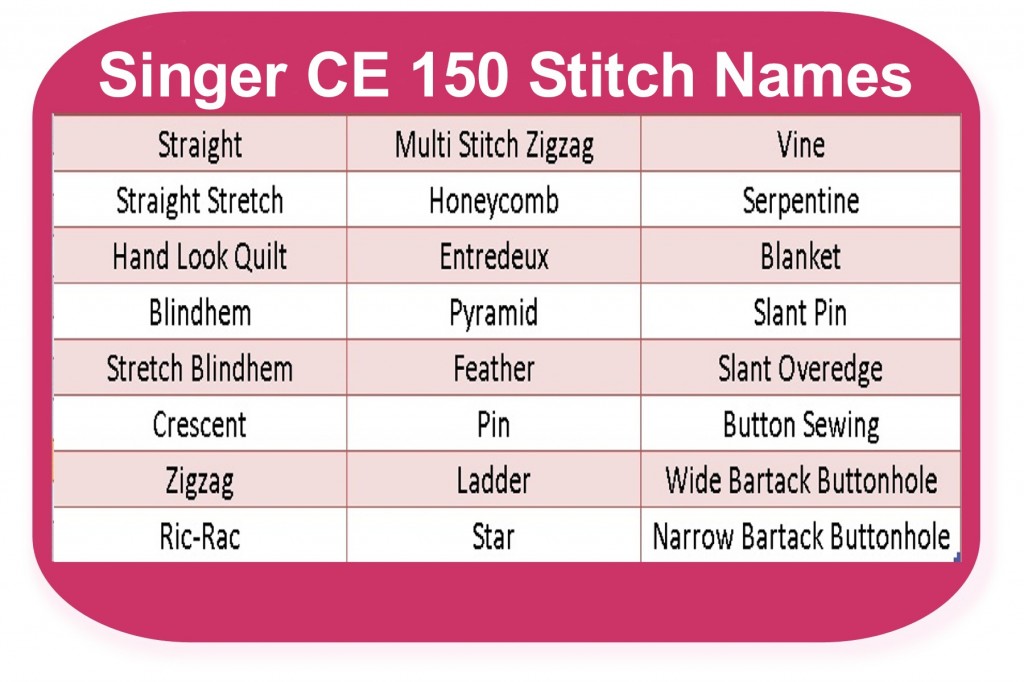 Although each stitch has a default width and length setting, some stitches can be modified to a maximum width of 7mm and a maximum length of 5mm. Don't be misled – the actual control panel shows maximum stitch width and length both at 7mm but Singer admits this is just for symmetrical appearance on the control panel.
Included with the Singer Futura CE 150's built in stitches are two one-step buttonholes – a narrow and a wide bartack style buttonhole.
On the control panel, there are four rows of 6 stitch patterns each. A stitch selection button lies to the right of each row of stitch patterns and is used to select one of the stitches in that row. Pushing the button cycles the LED button through the options in that row. Stop pushing the button when the LED indicator above the desired stitch is lit.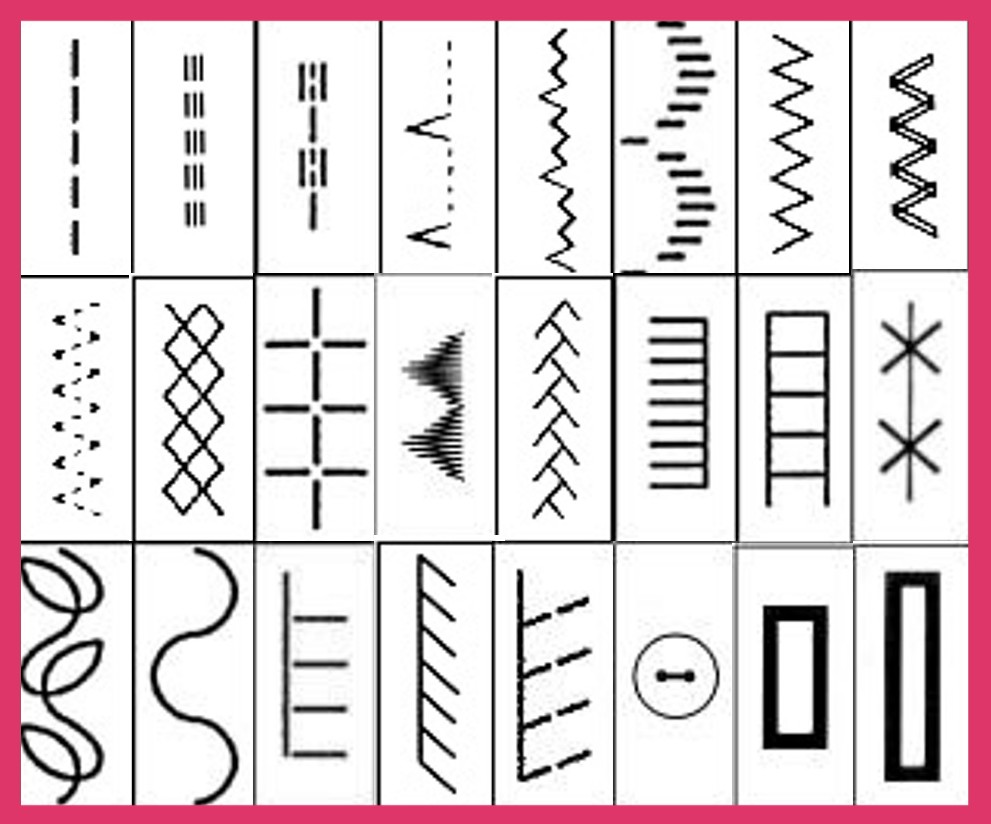 Singer Futura CE 150 Presser Feet
Included are 7 snap-on presser feet:
General Purpose foot
Zipper foot
Button Sewing foot
Blind Stitch
Buttonhole foot (Singer's patented design includes an additional plate on the bottom of this presser foot so that you can create buttonholes through thick layers of fabric or through multiple layers of fabric.)
Satin Stitch foot
Embroidery presser foot
Singer Futura CE 150 Functionality
(Back to Top)
There are plenty of good things to say about the sewing side of this machine. It threads easily, has a top loading drop-in bobbin, is jam proof, has a see-through bobbin cover, the drop feed dog lever is conveniently located up front and there is an automatic needle threader.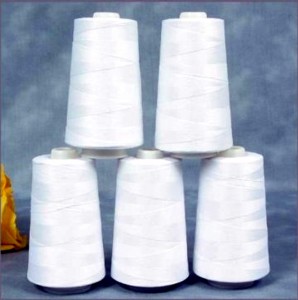 Thread tension is automatic and adjusts to handle whatever type of fabric you're using for consistent stitch quality with no fuss. It is also manually adjustable as needed which is necessary for embroidery stitches. Thread delivery is horizontal which aids smoother thread flow and reduces breakage but there is also a supplemental vertical spool pin so that you can use over-sized thread spools with this machine (like cones).
The needle up/down button is handy for putting the needle just where you want it when you want it. If you're turning a tight corner on a pocket or a quilting square, leave the needle down in the fabric and rotate your project manually to pick up the next line.
There is a Start/Stop button and while this would generally mean you could sew without the foot pedal, the Start/Stop button on this machine is for the embroidery functions, not for the sewing functions.
The needle position is adjustable to 13 positions – both left and right of center. This helps get the needle closer to the fabric edge or existing seems for topstitching and flexible zipper placement.
You can use a twin needle with this sewing machine but is not included in the accessories so you have to buy it separately. You do have to be careful using the twin-needle as there is no alert to indicate when you've selected a stitch setting that is incompatible with the twin needle.
The frame is made of heavy duty metal and the body is sturdy plastic housing like all of today's machines. The extension table removes for free arm sewing but also so that the embroidery attachment can be slipped into place.
This sewing machine has a built in carry handle and a very well-lit workspace. There are three separate LED lights to illuminate the area as much as possible and from different angles – one on each side of the needle arm and a third over the work area to the right of the needle arm.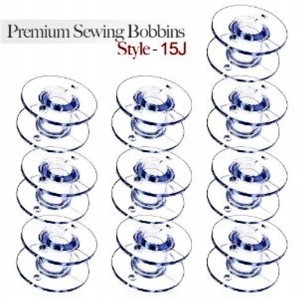 Only class 15J bobbins work in this sewing machine.
Optimum power supply redirects the sewing machine's power to the needle when necessary so that if you are working on thick layers of fabric or moving from a thin layer to a thicker layer the sewing speed remains steady and power needed to punch through the thicker layers is immediately on hand.
Pull out operations reference guide is tucked into the bottom of the machine below the control panel.
Machine alerts user to errors and broken thread with beeping sounds, lit LED indicators above the stitch patterns and through messages on the computer screen (if attached to the computer).
The face cover needs to be removed periodically so that you can oil the machine and keep the mechanical parts operating smoothly.
This video discusses some of the features and benefits:
During my last trip to the sewing machine store I discovered you can't actually find many Futuras except online because Husqvarna Viking picked up the design and now puts out the same machines but under a different model name.
Singer CE 150 Futura Embroidery Functionality
I've been comparing embroidery machines lately in hopes of getting one for Christmas this year. I fell in love with some embroidered table cloths and pillows and I'm determined to make some of my own. I think it would be fun to embellish my own clothes and my son has decided that he would love to give one a try for customizing his own t-shirts.
There are a couple of very important pieces of information one must understand before considering the CE 150 Futura:
You cannot embroider without having the sewing machine connected to a computer or laptop by the supplied USB cable
The software that comes with the machine and is used for managing embroidery work is NOT compatible with MACs. You must have a Windows, 32 bit operating system.
The software must be loaded onto your computer to control the embroidery functionality. It is the software that holds the provided 120 designs and 5 fonts (Arial Large, Block Large, Script 2, Courier, and Times Large).
Singer has quite a collection of editing and embroidery software for manipulating embroidery patterns – changing colors, adding or removing elements, adding fonts and creating your own designs from clip art and personal photos but the CE 150 comes with only the basic software package. With the basic program you can organize your designs, resize designs, and move and rotate designs within the frame.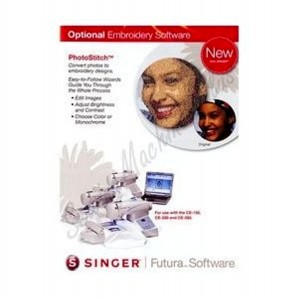 To do anything more than that requires the purchase of additional software and here's where headache #1 begins. There's software to add fonts, software to work with clip art and personal photos, software for enhanced editing, and software that converts patterns into cross-stitch patterns.
The software programs recognizes these image formats: .wmf, .emf, .bmp, .jpg, .tif, .pcx, .pcd, .tga, and .psd. However, some formats will be read more clearly than others and some need to be converted or changed into another format before they can be embroidered. The software can handle this conversion but some detail in the designs may be lost depending on the complexity of the original format.
The wide acceptance of image formats is certainly a plus but having to buy the additional software programs in order to do more with this embroidery machine gets expensive really fast. You also have to stay on top of patches and upgrades to keep up with any changes in Windows software. You can find all the information you need to manage the software updates at the official Futura Support site. Personally, figuring out which software was needed and which upgrades might be necessary just shouldn't be this difficult.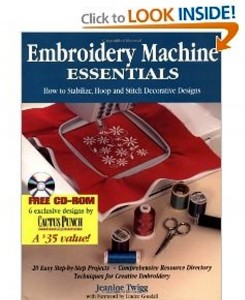 Another often mentioned challenge with the CE 150 is touchy threading requirements. Over and over again in consumer reviews, you'll see comments from users frustrated with threading error messages. If you don't get the threading just right, get the embroidery arm in place perfectly, or mess up the hoop attachment, you may feel like throwing the machine out the window before you ever get your first stitch on fabric.
I realize it is highly possible that these issues are user error or have to do with cheap thread being used in the machine but to me, that doesn't matter. If a machine is that picky, it's a problem.
Other combination embroidery and sewing machines with similar capabilities can cost significantly more. Ugh – it rather feels as if the choice is spend a ton of money for an embroidery machine or sacrifice quality.
For the sake of comparison, take a look at the Brother SE400 that I wrote about here. It has more efficient embroidery functionality, can embroider without being connected to your computer and it has better reviews.
Dimensions: L 17″ x H 12″ x D 11″
Weight: 22 pounds
Singer CE 150 Futura Accessories
(Back to Top)
The included accessories can be stored right inside the extension arm:
3 pack of needles
4 Bobbins
Spool cap (small and large)
Buttonhole opener/brush
3 Screwdrivers (1 large, 1 small, and 1 for the needle plate)
2 Thread spool nets (long and short)
Removable thread guide (necessary for threading the machine when using the vertical spool pin for the top thread because of an oversized spool of thread like cones or for thread types that don't work well on the horizontal thread spool)
Separate vinyl bag holds the embroidery accessories
Bobbins
Scissors
Large (4 1/2" X 6 3/4") and Small (3 1/8" X 4 3/4") Hoops
Embroidery Software
USB Cable
Singer CE 150 Futura Sewing Machine Customer Reviews
This combination embroidery and sewing machine doesn't quite hit the mark for ease of use as some other models and that's reflected in ratings across a number of sites. I've tested this one out myself during a store demo and found comments about threading difficulties were understandable. It does seem to be a bit touchy.
While I, and others, like the layout of the machine because you can so easily reach the controls while working, it's not enough to compensate for some other performance issues.
You can read more here: User Reviews
Walmart
shows 28 reviews with an average rating of 4.1. Amazon has 17 reviews and they're clearly not as favorable.
Average Rating: 3.4
Pros, Cons & Manual

Pros: Runs quietly, smooth stitching, feed dog lever is in the front of the machine instead of the back where most machines have put the lever – makes it much easier to access. Needle up/down. Exclusive Singer buttonhole underplate for making buttonholes through multiple layers of fabric.

Cons: Not compatible with MAC. Finicky threading system. If not done perfectly, error messages will prevent you from getting through your work. Presser feet pressure is not adjustable. No alert to any settings for twin needle sewing that might result in a broken needle or damage to the machine.
Manual available online here: Get the Manual
Manufacturer's Warranty: As of this date,the warranty in the US is 25 year limited on the machine head, limited 5 year warranty on motors, light, assembly, wiring, switches, speed control and electronic components, and a limited 1 year warranty on adjustments, belts, rings, bulbs, and attachments. As is standard with most warranties, the warranty may be void if certain requirements are not followed.
Compare prices at these two stores:
COMPARE PRICES
Amazon
Walmart
Features Summary Review: