Sewing machine stitch patterns are different for each machine and even the names of the same stitches can be different depending on the manufacturer.
Sorting through your options can be confusing, especially if you're just learning to sew. Deciding on a new sewing machine is pretty easy right up until you have to choose one or another based on the built-in stitches.  You can't add more later but it's difficult to know in advance which ones you'll find most useful. Here's one way to help narrow down the stitches you might use most often.
Built-in stitches are the stitch patterns that are programmed into each machine. To make the needle perform the movements required for a machine stitch takes precision and technology that is built-in at the time the machine is manufactured. The stitches a machine can perform cannot be changed later unless your machine comes with a card reader or USB port to accept new stitch downloads and, as far as I know (but I should check…) that functionality is reserved for embroidery stitches only.
So each machine comes with a pre-determined set of stitches. These almost always include the most used utility stitches like straight and zigzag but may include fancy, decorative stitches and embroidery patterns as well as fonts for monogramming. This is where choosing a new machine gets sticky.
You can only write so many sewing machine reviews before it starts to mess with your head a bit.  That's what I discovered this morning when I awoke and something caught my eye before I had time to even move my head or stretch or fumble for the alarm clock to catch it before it went off.
It was the stitch pattern used on the trim of my pillow case.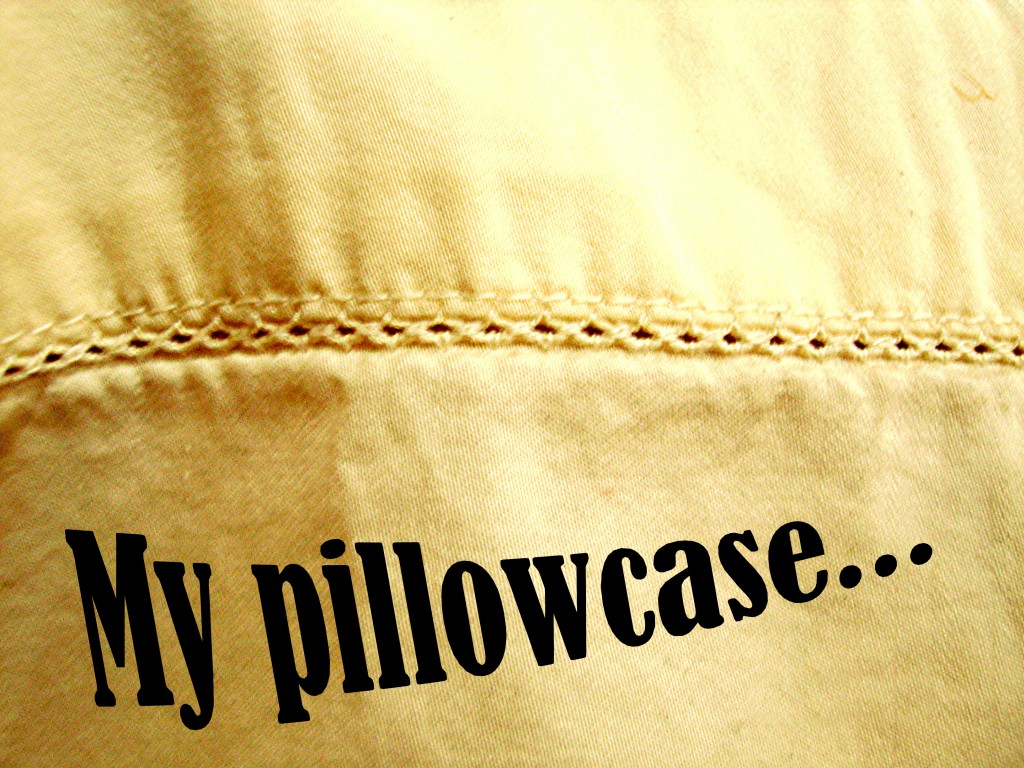 Not even fully alert, I realized that I was studying that set of stitches rather intently.  In fact, I found myself flipping the edge of the pillowcase inside out so I could further investigate the stitches.  It was a very delicate piece of work with very small gaps in between two pieces of fabric.  Quite pretty, actually.  How did they do this?  I'm pretty sure it's a "joining stitch" – a stitch that brings together two pieces of fabric at their edges which can be decorative or utilitarian depending on the project.  This happened to be a very decorative joining stitch.
I realize that commercially made products are probably done by large, industrial sewing machines and sergers that would be unreasonable for home use for a number of reasons.  However, it got me to thinking about the kinds of stitches I might find on other things in my home.  Rambling through my closet, I found all kinds of different sewing machine stitch patterns and examples.
The insides of t-shirt collars and sleeves almost always had an overlocking stitch to keep the edges of cotton fabrics from rolling or unraveling.  Zigzag stitches were used to attach lace to the edges of t-shirt neckline.  Blind hem stitches were found on the cuffs of jackets and the hem of many pants.
I hadn't thought of it this way before but my house was filled with information about what type of sewing machine stitch patterns might be most useful to me.  All I needed to do was look at things in my house that I might sew myself and see what stitches were used for those products.
It was easy to see that straight, zigzag, blind hem, and some sort of overedge, overcast or overlocking stitch would just about be a minimum requirement.  (Which I believe is what my mother told me several months ago anyway.  Mom – you were right!)
Everyone's needs are different but if you're struggling to find the right sewing machine for you because you're stuck at choosing one set of built-in stitches over another, take a look at things in your home you might want to make – blankets, clothes, pillows, tablecloths, napkins, placemats, curtains and bedding.  Check out the way two different types of materials are joined together.  Look at the decorative aspects of some of the stitch work.  Would you find a need for using such decorative stitches in the projects you want to make with your sewing machine?
Look at things in your home made of different kinds of fabrics, too.  Cottons, jersey, knits, sheers like chiffon, tops with lace edging, etc.  Different kinds of fabric benefit from different kinds of sewing machine stitches.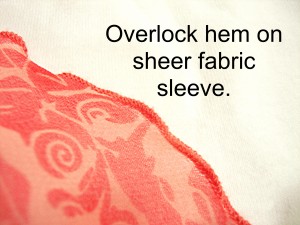 I found a very sheer blouse in my closet that has some pretty embellishment on the cuff.  It's a strip of velvet ribbon attached with very small overcast stitches. The edges of the cuff, however, are protected with an overlocking stitch to prevent raveling.  Lace at the collar was attached with a zigzag stitch.  A great example of how one project might require 3 or more basic stitch types for completion.
Okay, so you've gone around your house inspecting your fabric goods (and ignoring the curious looks from spouse and children) but you have no idea what any of the stitch patterns are called.  Straight and zigzag are pretty easy to figure out for even the most inexperienced beginner.  But the others?
That's when you go to my two favorite stitch pattern guides.  They're buried away on the Singer and Janome websites but really quite useful if you're trying to find stitch pattern names or figure out what certain stitches do exactly.
http://www.singerco.com/resources/stitch_ref.html
http://janome.com/index.cfm/ProjectCenter/Stitch_Learning_Center
These guides will even tell you which sewing machines have each stitch pattern built-in.  I don't always find the individual machine detail to be 100% accurate which is why I try to include the actual pictures of all included stitches in each of the sewing machine reviews on this site.
Go rummaging through your house and your closet.  See if you find which sewing machine stitch patterns would be the best for you.  While you're at it, remember to take a look at the trim on your pillowcase, too.
You can read more about sewing machine stitches here: How Many Built-in Stitches Do I Need?