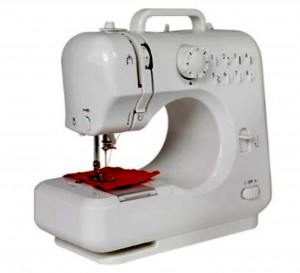 The Michley LSS-505 Lil' Sew & Sew sewing machine is a popular, lightweight model that serves a specific purpose. It's distributed by Tivax, a company in California that produces a number of portable electronics like television sets and converter boxes in addition to the Michley line.
If you read the reviews on this one, they're all over the board. I decided to jump in and figure out why that might be the case. It appears it's all about expectations. This machine is great for a certain set of circumstances. If you buy it for one of those circumstances, you'll be thrilled. If you buy it for some other purpose, you might be highly disappointed.
Table of Contents
(Click Ahead!)
Built In Stitches / Presser Feet / Functionality / Accessories / Consumer Reviews / Pros, Cons & Manual / Price
REVIEW SUMMARY
MODEL: Michley LSS-505 Sewing Machine
REVIEWED BY: Erin
RATING: 3.4


LAST UPDATED: April 8, 2015

COMPARE PRICES
Amazon
Walmart
It's great for anyone who needs something small to get some basic mending done without spending a fortune. Also works well for anyone who spends part (or all) of the year in an RV and can't take up valuable space with a larger machine. If you're headed off to college and just want something available to fix the loose threads in the hems of your shirts or skirts, this will work.
It can also be a great little device for young children first learning to sew because the weight makes it very easy for them to carry around.  Beginners who need just a little something to get started before deciding to invest in something more complex can also benefit.
Using this for anything outside of those kinds of situations might lead to disappointment but if you fit those two categories then you'll appreciate this review of the features and stitches on this little model.
Stitches on the LSS-505
(Back to Top)
There are a total of eight built in stitches: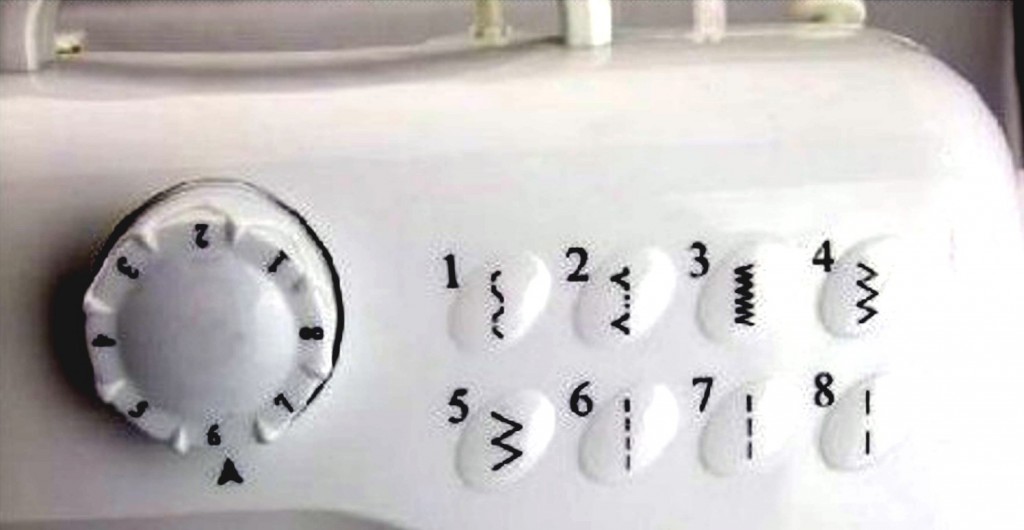 3 straight stitches
3 zigzag stitches
1 Blind Hem stitch
1 Scallop stitch
Select the pattern you want with the selection knob on the front.
Note that there is no buttonhole stitch.
Just One Presser Foot, Though
(Back to Top)
Comes with only the installed general purpose presser foot with a 5mm width opening. You cannot add additional presser feet.
A Handy Little Set of Features
(Back to Top)
When it comes to simple operation, the Michley LSS-505 fits the bill. Threading is the most complicated step but no different from other machines. After that, you just turn the knob on front to pick your stitch and decide whether you're going to use the presser foot or the speed button on the front.
POWER SOURCE – An AC power cord is included but the machine does run on 4AA batteries (battery compartment located in the bottom) if you need to use it where no power is available.
FOOT PEDAL OR PUSH BUTTON SEWING – You can sew using the plug-in foot pedal (included) or leave it off and sew using the High-Off-Low button on the front. Off means the machine is all the way off. High will start the machine sewing at maximum speed (which isn't overly fast but fast enough). Low will start the machine off in a low speed setting which is great for beginners and kids.
TOP THREAD – The top thread uses vertical delivery but the well in which the spool sits does not fit standard sized thread spools. You'll need to use half sized spools instead.
TENSION – Manually adjusted with a dial on the front of the machine.
BOBBIN – There's a drop in bobbin with a see through cover. You can also easily reach the bobbin compartment for adjustments if you have any issues as it might move over time. The machine requires metal bobbins because of the magnetized tension mechanism inside.
REVERSE – A lever on the front can be held down to put the machine into reverse so you can tie off your stitches.
TWIN NEEDLE – It is capable of twin needle sewing although a twin needle is not included. You'd need a 5mm width twin needle which you can purchase separately.
FREE ARM – The arm is thin enough to do some sleeve and leg mending but very narrow items might not fit. (I'm thinking children's straight leg or skinny jeans, for example.)
WORK LIGHT – There's a built in work light over the sewing area and a little pull out storage drawer to hold your extra accessories.
THREAD CUTTER – There is a manual thread cutter on the left hand side so you can quickly cut off your top and bottom threads.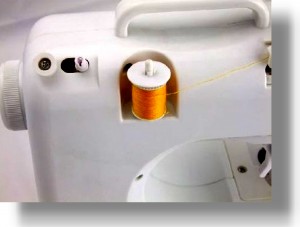 BOBBIN WINDER – There's an automatic bobbin winder on the top of the Michley LSS-505 but it's not the most efficient. You might find yourself less frustrated if you buy a little side winder you can use to prepare your bobbins instead of fighting the one built into this machine.
FEED DOG – This is only a 3 piece feed dog, one of the weakest on any home machine. You're going to have to work a bit at getting your fabric started and be prepared to help it along throughout the entire sewing process.
MAINTENANCE – This is a no-oil machine (again, a great feature for young children). This is because the pieces inside are plastic and do not need oil.
FABRIC THICKNESS CAPABILITY – According the manufacturer, it sews best through fabric less than .3mm in thickness (.11 inches).
Dimensions: Size: L 12.4″ x H 11.7″ x W 5.8″
Weight: 6.5 lbs
Michley LSS-505 Lil' Sew & Sew Included Accessories
2 thread spools
2 metal bobbins
Needle
Small threader tool
Customer Ratings of the LSS-505
Some reviewers absolutely love this machine. Others couldn't wait to get rid of it. As I mentioned, it's designed for a very specific market. If you're the target audience for this machine and just need a travel option, a very basic mending tool, or something you can operate with batteries when you have to – you may have found your perfect fit.
Average consumer rating across multiple online retailers: 3.42
Pros, Cons & Manual

What I Like:Super lightweight. Can be run on batteries. Enough basic stitches for mending, some basic quilting tasks, and straight stitches. Option to operate without the foot pedal.

What To Watch Out For:Need to use half sized thread spools. Weak feed dog. No seam guides on the needle plate. No buttonhole stitch. Some repeated issue have been noted regarding jamming but some have had success using a higher quality thread.
Manual available online here: Manual
Compare these two locations for the lowest price:
COMPARE PRICES
Amazon
Walmart
Features Summary Review: