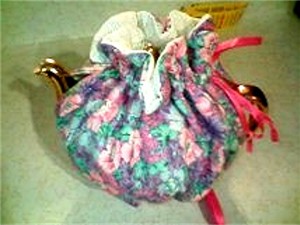 A tea cozy, that is. I've had these pictures for months now. These are pictures of a little tea cozy that my mother made. She sent them to me with a note about how easy they were to make but then she didn't send the instructions so I'm going to have to get on her for those!
My mother is the reason this site exists at all. She knew I was looking for a new online project when she happened to mention how frustrated she was when shopping for a new sewing machine for her grandaughters – my nieces.

My mother has been sewing since before I was born (and I have kids in high school just to put that into perspective…) but since her machine has lasted for so long, looking at new ones just seemed so mind-boggling with how much has changed. Like everything else in our lives, technology keeps updating more and more quickly. She explained that in-depth sewing machine reviews were hard to find and it was incredibly time consuming to try to compare different models.
And the site was born. That was April of 2010. Somehow the one year anniversary of the site just flew right past me!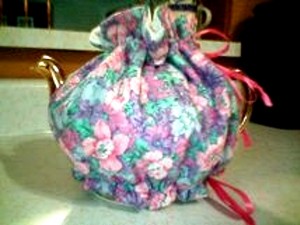 However, my mother just survived a medical scare and those three nieces just survived a horrible car accident without a scratch so I think it's a great day to show off Mom's tea cozy and celebrate for a bit. If I were with you, Mom, we'd be drinking some Mango Passionfruit tea and playing a game of Gin Rummy. Oooh…I'd also get to show you my latest fabric!
Cheers!