The Juki HZL-35Z sewing machine is a
solid, smooth, precision machine with 27 built in stitches and a superior feed dog system. It's a nice sized sewing machine with a blend of practical garment construction stitches, stretch stitches, and satin stitches
.
This machine is one of a handful that bring Juki's strong reputation for industrial sewing machines to the home sewing machine market. It's easy to use, reliable, and runs smoothly.

Table of Contents
(Click Ahead!)
Stitch Count / Presser Feet / Functionality / Accessories / Customer Reviews / Pros, Cons & Manual
REVIEW SUMMARY
MODEL: Juki HZL-35Z Sewing Machine
REVIEWED BY: Erin
RATING: 4.8


LAST UPDATED: April 9, 2015

COMPARE PRICES
DISCONTINUED
Juki has been in the sewing machine business since the late 1930's. Operating out of Japan and specializing in industrial sewing machines, they launched their home sewing machine models only a few years ago as a way of allowing those who loved their industrial quality to use the same technology at home at a much more affordable price. Their designs and technology have won a number of awards including the Deming Prize in 1981 for the quality control practices and improvements in their industrial sewing machine division.
Stitches Great for Home Decor and Clothing
(Back to Top)
There are a total of 27 stitch patterns on this model including a 1-step Bartack buttonhole. This particular combination of stitches is geared towards making clothes and home accessory projects. There are powerful overcasting stitches for heavy fabrics, some decorative satin stitches for additional detail, and all the popular utility stitches.
Stitch length is adjustable to 4mm and stitch width is adjustable to 6.5mm on the Zigzag stitch.

Bartack Buttonhole
Straight
Zigzag
Blind Hem
Multi-stitch Zigzag (also known as Tricot)

Shell Tuck
Elastic Blind Hem
Scallop
Domino
Diamond
Arrowhead
Rampart
Overedge
Faggoting
Straight Stretch
Ric Rac
Overcast
Honeycomb
Overcast (reversed)
Peak Point
Crown
Strong Stretch
Pulse
Chevron
Knit Stitch
Stacked Triangle
Four Standard Presser Feet
(Back to Top)
There are four snap-on presser feet. The General Purpose presser foot has a leveling button which can be used to navigate evenly over thick seams or to start the machine smoothly when working on thick layers of material.
General Purpose with leveling button
Zipper
Blind Stitch
Buttonhole Foot
Strong Feed Dogs and Helpful Features
(Back to Top)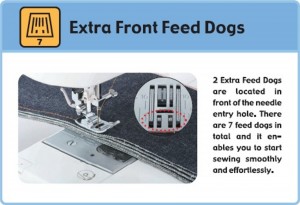 Because of Juki's experience in the industrial and commercial use sewing machine market, even their home sewing machines utilize technology they know and rely on to guide fabric smoothly and evenly.
The feed dog s have 7 points of contact – the most superior feed dog system available on home sewing machines. Two leading points have been positioned just ahead of the needle in order to quickly and easily make contact with your fabric and pull it through under the needle without requiring any additional encouragement from the sewer. The feed dog system works well with all kinds of fabrics from sheers to really heavy denims, canvas and corduroy.
The machine comes with a number of other sewer friendly features, too:
Automatic needle threader
Top-loading, drop-in bobbin
Automatic bobbin winder
2 Needle positions – left and center
Pressure regulator so you can work with a variety of fabric types and see consistent fabric movement and stitches
Adjustable top thread tension
See-through bobbin cover
Drop feed dog lever for free motion quilting, embroidery and darning
Reverse button conveniently located above the needle arm
Manual thread cutter on the extension arm
Free-arm sewing with removal of extension arm
Built in carry handle
6.6 inches of working space between the needle and the body of the machine
Work light
Maximum sewing speed of 700 stitches per minute
Dimensions: L 16.4" x H 11.8" x D 6.7"
Weight: 16 pounds
Accessories
(Back to Top)
Includes hard case, extension arm removes and has separated compartments for the included sewing accessories:
Pack of needles
3 Bobbins
2 Spool caps (small and large)
Combination seam ripper/brush
2 Screwdrivers (small and large)
Oiler
You Might Not Know the Brand but they Earn Strong Ratings
(Back to Top)
Other buyers did a lot of homework before buying this machine because of the unfamiliarity with the brand in the home machine market. They're certainly much more well known for their commercial machines. However, the majority were very pleased with the machine's performance and thought it delivered very professional stitches.
It's easy to use, doesn't jam, and runs relatively quietly. Beginners found they didn't need to keep referring back to the manual as the machine controls were self-explanatory after a little practice.

Average Rating: 4.8
Pros, Cons & Manual
(Back to Top)



Pros: Smooth, even quality stitches. Reliable and sturdy – holds up well. Hard cover case included. Automatic needle threader. Nice assortment of utility, stretch and satin stitches. Superior feed dog system for fabric control. Easy, jam resistant bobbin system.

Cons: Not the quietest of sewing machines. Hard cover does not lock onto the sewing machine for carrying but rests over it to protect from dust – still useful but not for carrying. Manual thread cutter is on the extension arm, not on the presser foot lever arm which is standard on many home sewing machines.
Manual is not available online.

Manufacturer's Warranty: As of this date, there is a limited warranty of two years on motors, light assembly, wiring, switches and speed control plus limited warranty of five years on all other parts excluding needles, loopers, feed dogs, knife blades, bulbs, lamps, and belts.
Features Summary Review: