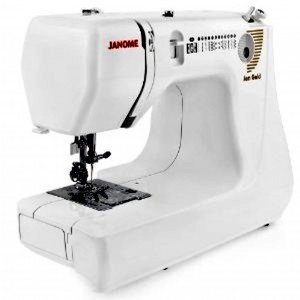 The Janome Jem Gold 660 is a
¾ size sewing machine – compact and portable but with complete functionality and a design layout that makes it feel full-sized.
This 12-lb. machine offers 8 stitches, including 2 stretch stitches and a built-in buttonhole.
Standard Janome quality and durability make this 3/4-size machine perfect for a first time sewist or as a travel machine for taking to classes.
Table of Contents
(Click Ahead!)
Stitch Count / Presser Feet / Functionality / Accessories / Customer Reviews / Pros, Cons & Manual
REVIEW SUMMARY
MODEL: Janome Jem Gold 660 Sewing Machine
REVIEWED BY: Erin
RATING: 5.0


LAST UPDATED: April 9, 2015

COMPARE PRICES
Amazon
Overstock
Janome Jem Gold 660 Sewing Stitches for On-the-Go
(Back to Top)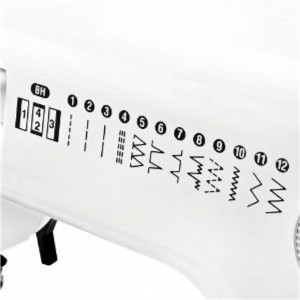 Certainly not the number of stitches you'd see on larger sewing machines but for a beginner or those who need a 3/4 size sewing machine for travel this set of 12 built in stitches includes the most important patterns.
In addition, there is a 4-step buttonhole stitch. Zigzag stitch width adjustable to 5mm and stitch length adjustable to 4mm. Top thread tension is adjustable using a dial located near the lay-in tension slots.
Stitches include:
4 straight stitches (covers basting, gathering, mending and a straight stretch stitch)
Overcast
Shell Tuck
Blind Hem
Stretch Blind Hem
Multi-stitch Zigzag
3 Zigzag stitches
Janome Jem Gold 660 Presser Feet
(Back to Top)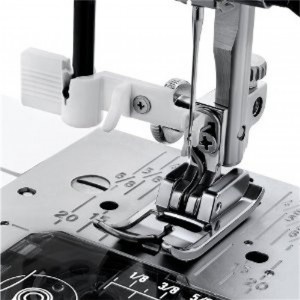 Besides the general presser foot, you get a two additional presser feet for a total of three. All presser feet are low-shank, snap-on feet for quick changing. Presser foot pressure is not adjustable but there the height lever includes an extra-up setting for extra-thick fabrics and projects.
General Purpose

– used for most stitches.

Overedge Foot

– used with the Overcast stitch. This presser foot holds the fabric as needed to allow the thread to wrap around the edge of the fabric to prevent raveling.

Buttonhole Foot

– used to sew the four-step buttonholes.
Janome Jem Gold 660 Sewing Machine Functionality
(Back to Top)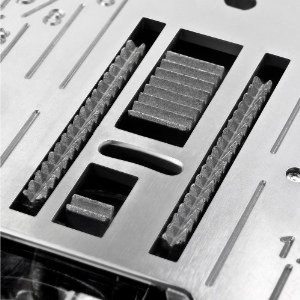 The Janome Jem Gold 660 sewing machine has great, basic functionality. It's not loaded, of course, but it's not a full-size machine so I wouldn't expect it to be. It does have enough features to help you get the top and bottom threads ready to go in no time.
One thing I find Janome does consistently is to ensure sufficient solid construction so as not to lose the precision, even stitches for which they are known no matter how big or small the sewing machine and this is no exception.
A magnetic, full rotary hook houses the bobbin. These descriptions can be confusing but this is an engineer's way of saying the machine has a drop-in bobbin system enhanced with the use of magnetic housing. It's a good thing and provides one of the easiest, least finicky bobbin threading set ups.
Threading the top thread is easy following the lay in threading guide and further supported with an automatic needle threader. Thread delivery is horizontal which means your top thread spool lays horizontally on the pin instead of vertically. This helps prevent thread breakage.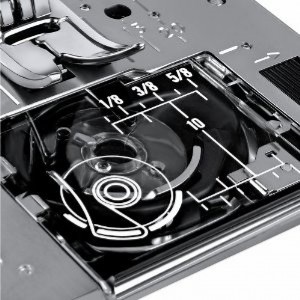 The automatic declutch bobbin winder makes loading bobbins a breeze. Drop them in the bobbin case and you're set to go.
This arrangement is so goof-proof that you can even sew right off the edge of the fabric and never see a thread jam. The bobbin cover is see-through so you always know how much thread is left on your bobbin before you start sewing.
Markings on the needle plate are in both inches and metric. A work lamp above the needle helps you better see what you're working on regardless of your surrounding lighting conditions.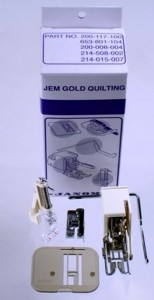 Sewing stitches are selected by turning a dial and all the patterns are displayed on the front of the machine for easy reference. The reverse stitch lever sits a little higher than it does on some other Janome models but is solid, sturdy and easy to activate.
At a max speed of 650 stitches per minute you'll have nice, even control over your work. A thread cutter at the needle arm makes snipping your threads as simple as slipping your fabric out and to the left to remove it upon completion.
You can also buy a quilting kit for the Janome Jem Gold 660 that includes a number of quilting focused presser feet, a darning plate, and a quilting guide.
The extension arm holds the included accessories and can also be removed for free-arm or circular sewing.
Dimensions: L 10″ H 10″ D 7/12″
Weight: 12 pounds
Janome Jem Gold 660 Sewing Machine Video
This is a very short demo video of the Janome Jem Gold 660 sewing machine but look at how straight it sews – and the person doesn't even have their hands on the fabric!
Accessories
3 – Bobbins
1 – Package of Needles
1 – Seam Ripper
1 – Screwdriver
1 – Spool Holder (Large)
1 – Spool Holder (Small)
1 – Spool Pin
Janome Jem Gold 660 Customer Reviews
(Back to Top)
There's just not an unfavorable review in the bunch, no matter where you look. Those who have used this sewing machine bought it specifically to have something reliable but powerful for on-the-go sewing or for taking to class. If they had any complaint at all it had to do with not being able to do free motion quilting because the feed dogs do not lower on this machine. Otherwise, it's a gem, performance is great, and the stitch quality is very high.
One woman who purchased in 2002 has updated her review several times including most recently in 2009. She highly recommends this sewing machine and uses it as a backup and for travel. You can read her review here: Epinions Customer Review. Important to note are the fact that she's used this machine for over 7 years and only just recently had it serviced just for a cleaning. She mentions it is a workhorse and handles even some large projects easily considering its overall size.
I have not been able to find any customer rating less than 4 stars. (Click to read more consumer reviews)
Average Rating: 5.0
Pros, Cons & Manual

Pros: Lightweight and compact size perfect for travel, class or as a backup machine. Automatic needle threader. Jam proof bobbin system. Horizontal thread delivery.  Nice choice for an extra quilting machine, for beginners who need something small, or anyone who just wants a sewing machine to use for periodic mending and alterations.  This is a machine that will hold up over time.

Cons: Presser foot pressure is not adjustable. Limited number of stitches.
Manual available online here: Manual
Manufacturer's Warranty: In the US, as of this date, the Janome Jem Gold 660 sewing machine comes with a 20 year warranty on parts, 2 years on electrical, 1 year on labor and may be voided by certain activities.
For current pricing information, check these stores:
COMPARE PRICES
Amazon
Overstock
Features Summary Review: