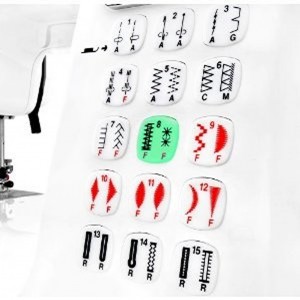 While comparing the Janome DC4030 sewing machine stitches to those of the Janome DC2012, I found the graphic showing the number and type for the DC4030 and thought it might be handy to have for future reference. Questions about stitches on a machine come up fairly often.
The DC4030 has a total of 24 built in stitches. Six of them are buttonholes, eight are satin stitches, 1 mending stitch, and 9 utility stitches. Because of the number of buttonhole stitches, this machine would be well suited towards those who really need a good machine for making clothes.
This will also help answer a comment I had from someone asking about these two machines in particular.
I haven't done a full review on either but will add them to my list so you're likely to come across this picture again.