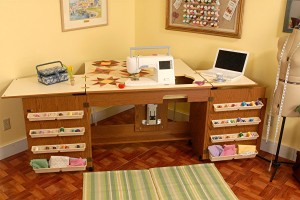 I started out researching how you get a cabinet that perfectly fits your machine and pretty quickly realized there was so much to cover when it comes to creating your work space that one post wasn't going to cut it. So, this is part 2 in a series around this topic.
My mom has a great craft room with a large work table that has tons of drawers, shelves for her books, and bins for fabric.

Her machine came built into a cabinet where she just pulls up the machine when she needs it and can fold it back down and use the cabinet as a small desk the rest of the time.
I use a dresser in my office. The top drawer of the dresser and a plastic storage box hold all of my supplies.
For the past few days, I've browsed forums, read blog posts, looked at images online, and found that there is not only an extensive variety of cabinets that are available but also some pretty creative ways to use something else for your work table.
Actual Cabinets
One size fits all where you either get a custom insert to support your particular model in the recess for the machine or where the recess holds a wide variety of machines
Cabinets without storage drawers
Cabinets with storage drawers
Cabinets with fold out storage drawers
Desk shaped cabinets
L-shaped cabinets
Square cabinets
Cabinets with hydraulic lifts
Cabinets with manual lifts
Cabinets on wheels
Cabinets that have pull-down tables

Arrow Model 98503 Compact and Versatile Cabinet with Convenient Air-Lift – Black Finish


Arrow 601 – Gidget Sewing Table


Kangaroo Kabinets
K8611
Aussie Large Sewing Cabinet
Ash White

The Not-So-Standard Cabinet
Computer desk (with or without drawers)
Regular desks
Wheeled cart
Wheeled table
Old desk from kid's bedroom set (really any other piece of similar furniture that's no longer being used for its original purpose – kitchen table, card table, dresser)
Old table with legs cut down and locking wheel casters added
Old table with insert cut out and hydraulic lift purchased separately is added to the table
Drop leaf table
Folding tables
U shaped table – although some of these styles don't have enough room behind the machine for quilters.
A door without hardware laid across saw horses, file cabinets or attached to separately purchased legs
Make your own with a set of plans (and someone handy if it's not you)
by
bluemini
by
shimelle
Additional Storage
Whether or not people have used a traditional cabinet or are repurposing another piece of furniture, these are things you can use for additional storage:
Stacking plastic bins
Wall mounted shelves
Plastic crates
Trundle drawers on casters that you can buy separately (these can be rolled under a table or desk when not being used)
Bookshelves
Photo boxes
Ornament boxes
Craft organizer boxes
Small tin pails
Glass jars
Wicker baskets
Magazine racks
Towel racks
by
shimelle
What creative solutions have you come up with for your craft space? Share your ideas below!
Read the first post in this series, Do You Really Need a Sewing Cabinet, here: Post #1.