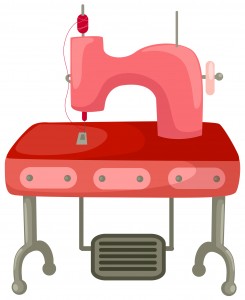 You've purchased your first machine and it is unboxed and sitting all shiny and new on your kitchen table. You've practiced threading it, loaded a bobbin, and you've ripped up an old shirt so you could play with the different stitches. You might even have created your first buttonhole.
Come dinner time, though, your spouse or partner starts eying the table and murmurs of a growling tummy are heard across the room. Family members are suspiciously eying your goods wondering if they've permanently taken over the space or if you'll have it moved in time to make room for their next meal.

This is when you start to wonder if you need a real cabinet in which to store not only the machine but also all of your sewing notions and supplies.
A true sewing cabinet often has a recess or well that the machine can fit into so that the needle plate is flush with the table top of the cabinet. A cabinet may also have drawers and shelves for storage and even specialty racks to hold spools of thread.
I've poked through my mom's sewing cabinet drawers and, in hers, she keeps the machine's manual, her extra presser feet, bobbins, needles, a seam ripper, the additional attachments that came with her machine, tweezers (to grab thread) and an assortment of trims and ribbon scraps.
No matter what, clearly you need SOMEPLACE to work. If even a few of the following statements are true for you situation, you probably should consider buying something and a cabinet may be the answer:
I need to have the workspace of the machine flush with the table top of my work area.
I am going to sew often enough that having special cabinet features geared towards sewing would help me work faster and more efficiently.
I have absolutely no designated work space for sewing right now and it is causing a problem.
I won't consider my craft room complete without a true sewing machine cabinet.
My notions, accessories and tools are spread all over the place with no true "home" of their own.
I currently have my machine sitting on a spare dresser in our office. Because of the height of the dresser I can use it when standing but can't sit and work. If I, personally, run through these statements, though, I can't quite justify the additional expense.
I don't need the sewing machine to be even with a flat work space. I don't sew often enough yet to need something more substantial than what I have. I can always use my dining room table because that room is only reserved for a couple of special meals a year. I don't have a true craft room (the office actually does triple duty at this point). All of my notions are in a portable box I can take with me to the dining room for extended project work.
Darn – because I've seen some truly amazing models online! However, I could see my answers changing in the future as my schedule frees up and my children get older. When the time is right, then I'll be in the market for a special setup I can use on a regular basis.
In the next few posts I'll be talking about all the possible options available for sewing tables as well as how to find a cabinet that fits your machine.