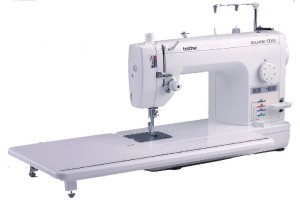 I wasn't sure about tackling a review of the Brother PQ1500S quilting machine. I mean, it's not exactly your standard starter option. It's meant for serious quilters but some of the features have much broader appeal and based on some of the questions I get, those just starting out may be taking on projects that would benefit from the power, speed, and size of this machine.
This is also one of the most affordable, nearly industrial – yet still portable – quilting machines you can buy and the price just keeps getting better. It's a twin to the Juki TL98Q with some small differences yet at a considerable discount.
Table of Contents
(Click Ahead!)
Stitch Count / Presser Feet / Functionality / Accessories / Customer Reviews / Pros, Cons & Manual
REVIEW SUMMARY
MODEL: Brother PQ1500S Straight Stitch Machine
REVIEWED BY: Erin
RATING: 4.8


LAST UPDATED: April 8, 2015

COMPARE PRICES
Amazon
It handles an extremely wide variety of fabrics including those that require special handling like velvet, suede, and leather. Fabrics that have a plush nap won't be marred by the feed dogs or the presser feet thanks to a special fabric feeding enhancement exclusive to Brother.
It's a great machine for free motion quilting, high speed machine quilting, repetitive straight stitching, or demanding large scale projects but it can also be used for basic sewing. The included presser feet allow for zipper attachments and the creation of rolled hems.
Brother PQ1500S Stitches
This is easy – there's only one stitch with this machine. That's why this is called a straight stitch machine. It doesn't sew anything fancy but it wasn't built for fancy – it's built for speed.
The maximum stitch length of the straight stitch is 7mm. You can perform even basic basting with this long of a stitch setting.
Brother PQ1500S Included Presser Feet
(Back to Top)
The PQ1500S comes with 8 screw-in style presser feet and the notions include a screwdriver you can use to remove and reattach the feet.
General Purpose Foot
Rolled Hem Foot
Zipper Foot
Invisible Zipper Foot
¼" Foot
Quilting Foot
Walking Foot
Pin Feed Foot
Features and Functionality of the Brother PQ1500S Quilting Machine
(Back to Top)
If you've ever made a quilt of any real size, you've had to deal with issues that face any hobby quilter. You have lots of pieces of fabric to attach together – time consuming work that requires lots of straight stitching and can consume great quantities of thread. You've had to work with different kinds of materials and put them together in order to add contrast and texture to your quilt. You've had to manage fitting a large roll of heavy material through the throat or "harp" of the machine (that area between the needle and the right side of the machine).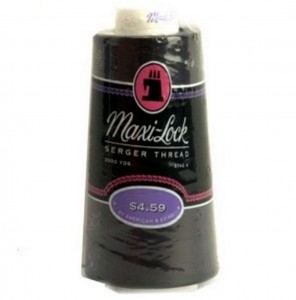 Industrial quilting machines are designed specifically to deal with large, bulk fabrics but can be way too much machine for most households.
This monster fills the gap by being large enough to handle even King size quilts and yet still light enough to move around. As an industrial setup can cost a couple of thousand dollars (or more), this one becomes an attractive choice as it's not much more than the cost of some entry level options.
If you find you've been spending a lot more money lately renting a quilting machine and frame or you've been outsourcing some of your work because you don't have the right equipment, the features on this model and the low price might be just the solution.
1500 SPM (stitches per minute)
Comes with a large 12" x 18" inch extension table
Built in automatic needle threader
Removable knee lifter lets you raise the presser foot with your knee leaving your hands free to work with the fabric
Adjustable presser foot pressure dial with color guide
Front-loading bobbin case located on the side of the machine so you can refill the bobbin without removing your project
Oil holes for quick oiling without pulling the machine apart
Oversized throat or harp area is 6 inches high and provides a field 6 inches by 9 inches to the right of the needle
Telescoping built in thread stand for cone threads
Heavy duty metal construction
Color coded thread tension dial on the front of the machine
Feed separator allows you to sew two different material weights at the same time without pulling or puckering, ideal if you're sewing a lining onto your project
F.A.S.T needle threader
FAST bobbin winding
Three holed thread guide – for most kinds of thread, you'll just run the top thread through one of those holes but if you're using any thread that is prone to tangling, you can run it through all three holes t increase the tension and eliminate tangles and jams.
Light switch on the side of the machine activates the lamp above the work space. The bulb is easily replaceable
Manual thread trimmer on the left side just above the needle
Thread cutter button on the front of the machine trims the top and bottom threads
Reverse stitch lever causes the machine to sew in reverse while the lever is held down
Needle stop position button – push this to have the machine stop with the needle down. The indicator light tells you when this is engaged.
Stitch length control knob at the top of the control panel, build in lift handle on the top of the machine
Presser foot lifter is on the back, fully raised there is ½" max presser foot height
Uses strong, long-lasting commercial HLX5 needles in size 9-16 but the manual does say you can also use Schmetz 130/705H.
Narrow feed dog
Compatible with a number of quilting frames
Pin Feed feature – this is exclusive to Brother. It's the addition of a pin on the end of the feed dog and is meant to feed through specialty fabrics that might be marred if you used the feed dog itself. By lowering the feed dogs and attaching the pin feed mechanism, the feed dogs are replaced with what amounts to the head of a pin reaching up and pulling the fabric forward. A pretty ingenious solution for dealing with velvet or suede or anything that has a thicker nap. By feeding with just the point of a pin, you're leaving no marks and yet still able to walk your fabric under the presser foot. The pin feed can be disengaged and only engaged when working with specialty fabrics. You can also replace the pin feed should it become dull over time.
Retractable, drop feed dogs with 4 settings – while most machines have two settings (up and down), this was designed to allow maximum pressure control both from above the fabric and below. The feed dogs have four different height settings so you can apply four different levels of pressure including none at all. By completely dropping the feed dogs, you can do free motion quilting and have a nice, wide open area in which to work. By combining those four different height settings with a full range adjustable presser foot pressure, you have the ultimate flexibility in fine-tuning your total pressure to be customized for every project.
This is often compared to the Juki TL98Q. They are the same machine with a few differences:
Only the Brother PQ1500S has the Pin Feed feature.
Juki has the thread trimmer on the foot pedal whereas Brother has this as a button on the front of the machine.
The Juki TL98Q has a true Needle Up/Down button while the Brother has a button that simply tells the machine when to stop with the needle in the down position.
The Juki TL98Q has only two feed dog settings – up or down – rather than the four settings on the Brother.
Dimensions: 12.6″ W x 7.9″ W x 19.3″ D
24.2 pounds

Brother PQ1500S Accessories
(Back to Top)
A great deal of accessories are included in the box:
Seam guide
Soft cover
Medium screwdriver
Small screwdriver
Cleaning brush
Knee lift
6 Needles and case (1 size 9, 2 size 11, 1 size 14, 1 size 16, 1 ballpoint needle)
Lining plate screw (2)
Fabric separator
Feed pin
Feed pin changer
5 bobbins
Spool cap
Extension table
Brother PQ1500S Quilting Machine Reviews and Ratings
There are some seriously mixed reviews online. However, almost all of the negative reviews are located on one particular website based outside of the US. All other sites I've found online show only very favorable reviews. Often, a disparity like this can be the result of a machine that allows for lot of control over pressure and tension. If someone has very little experience with that level of flexibility, it can seem as if the machine is working against them. It's like getting a digital SLR camera with all the features but only ever having used a digital point and click camera.
Serious quilting requires that a machine have certain features to handle bulk fabric and fast piecing work. It must be able to cope with a lot of work time and not get bogged down by fabric layers. Speed and power are important. That's why many comparable machines cost as much as twice the price of the PQ1500. There are lots of home quilters who sell their work and need an affordable option like this one. That came out as a positive in most online reviews.
Read more here: Consumer Comments
Average Rating: 4.8
Pros, Cons & Manual

Pros: Super fast straight stitching for piecing and large scale projects. Four different feed dog settings. Pin feed for sensitive fabrics. Adjustable presser foot pressure. Handles large thread cones. Large throat area. Automatic needle threader. Suitable for a quilting frame. Incredibly low price. Needle control.

Cons: No speed control although the Brother foot pedal is sensitive enough that you can slow down the machine appropriately. No free arm. Cannot use a twin needle. No bobbin thread sensor and no see through bobbin cover. A little tricky to get to the bobbin case when the extension table is attached. No needle UP control.
Manual available online here: See the Manual
Manufacturer's Warranty: As of this date, Brother offers a 1 year warranty on parts and labor, a two year warranty on electronic pattern control and selection components (parts only), and a 25 year warranty on shafts and rods on the machine head.
For current pricing information, check these links:
COMPARE PRICES
Amazon
Features Summary Review: