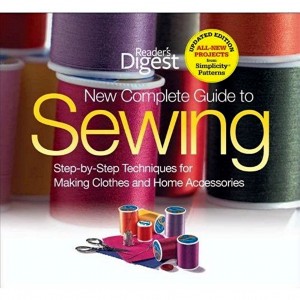 A couple of months ago I pre-ordered The New Complete Guide to Sewing 2010 edition. It showed up today and what a handy book to have around if you're a beginner.
Now, I LOVE the other books I've purchased to see my through my sewing journey but I'm quickly finding that each book serves its own purpose and that having a few on hand is not only common but often quite useful. Doesn't hurt that they look good on the bookshelf next to my sewing machine either. Makes me feel rather prepared!

In fact, the longer you sew and the more types of sewing you experiment with, the more books you might actually need. Try your hand at machine quilting and soon you're looking for books on the basics, working with shapes, or how to do freehand machine quilting.
I digress…it happens at my age…so, The New Complete Guide to Sewing 2010 edition showed up today and I've had only an hour or so to glance through it but I can see it will go nicely with the others I've collected. First, it's huge. As it's brand new – just released this month – it's still only available in hard cover and is a juicy 370+ pages long.
Immediately, I noticed that where my other books have touched lightly on fabrics and fitting techinques this book has provided a much expanded set of information on fabric types and also extensive information on fittings and working with patterns. There are even measurement tables for children, men, and women. It is loaded with information on all of the techniques involved in making clothes from attaching pockets to centering zippers to making alterations.
It's also packed with pictures. Every page has clear, colored pictures with easy to understand instructions meant to both educate on the steps involved in the task being described but also helpful in understanding sewing jargon.
The full title – ready? – The New Complete Guide to Sewing: Step-by-Step Techniques for Making Clothes and Home Accessories Updated Edition with All-New Projects and Simplicity Patterns (Reader's Digest) – is looong and dry but I understand why now. How else could they best describe a book that truly encompasses sewing basics from start to finish!
I don't know how this edition differs from the previous few editions but it appears that while they've expanded and updated some of the material to be more relevant to today's materials and available tools, the core of the book that's been so widely recommended by others for years has been left intact.
Somehow, between getting the house ready for Thanksgiving and stuffing a turkey, I've got to find a little extra time to delve more deeply into this giant treasure. Wish me luck!