The Singer 7442 sewing machine has one of the nicest selections of decorative stitches available on machines for beginners.
Our review shows this is a great machine for those who want to do embroidery and quilting as well as basic mending and clothes construction. It handles thick fabrics like denim easily and comes with a nice set of accessories.
It's also built to plow through many layers with a DC motor and Singer's Optimum Power Control.

Table of Contents
(Click Ahead!)
Stitch Count / Presser Feet / Functionality / Accessories / Customer Reviews / Pros, Cons & Manual
REVIEW SUMMARY
MODEL: Singer 7442 Sewing Machine
REVIEWED BY: Erin
RATING: 3.9


LAST UPDATED: April 9, 2015

CHECK PRICE
Amazon
I was hoping I could find a Singer sewing machine that was well rated by other consumers so am pleased to add this one to our list. Many grew up with the brand and share a sense of loyalty to the company, although ratings the past couple of years have not fared well. This model, however, seems to have won a following.
Consumers like its ease of use and some of the features that make today's sewing machines more efficient and less troublesome like automatic needle threading, horizontal thread delivery, and drop in bobbin system with see through panel.
Utility and Decorative Stitches
(Back to Top)
This is where things get really interesting. The Singer 7442 sewing machine comes with 30 built in stitches and lots of functions for each of those stitches. Stitch width and length are adjustable through sliders on the front of the machine up to 7mm.
A button on the front controls reverse sewing. A handy, 1 step buttonholer offers two styles of bartack buttonhole stitches (narrow and wide). Stitch selection is done by pushing one of five buttons on the front of the machine to rotate through six stitch options per line. An LED indicator light lets you know when you've selected a particular stitch.
This sewing machine has some of the most decorative stitches available in our reviews of machines under $200. This is what makes it one of the more functional quilting sewing machines for beginners. Here's the selection:
Straight
Straight stretch
Hand-look quilt
Regular blind hem
Stretch blind hem
Crescent
Zigzag
Ric-rac
Multi-stitch zigzag
Honeycomb
Overedge
Pyramid
Feather
Pin
Ladder
Star
Vine
Serpentine
Blanket
Slant pin
Slant overedge
Greek key
Entredeux
Arrowhead
Double overlock
Criss-cross
Crossed
Button sewing
Wide bartack buttonhole
Narrow bartack buttonhole
Snap On Presser Feet In the Box
(Back to Top)
The Singer 7442 sewing machine comes with five, snap on presser feet:
General purpose
Zipper foot
Buttonhole foot
Blind hem foot
Satin stitch/special purpose foot (for smooth and silky fabrics)
Features to Handle Threading and Sewing
(Back to Top)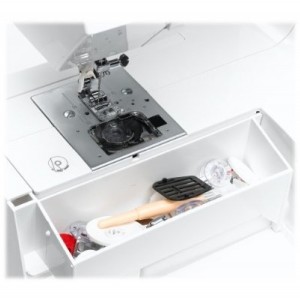 Besides the beautiful stitch variety, there are a number of user friendly features like:
Automatic needle threader
Six segment, box feed system for great fabric control
DC Motor
750 Stitches per Minute
Automatic thread tension
Push button controls
Free-arm sewing for pant legs, sleeves, and cuffs
13 needle positions
Clear bobbin cover so you can see how much thread is left
LED work light
Horizontal thread delivery for top thread
Twin needle sewing
Thread tension has an automatic setting but is dial adjustable if you like to experiment with different stitch outcomes. Accessories have room for storage inside the extension table. The drop in bobbins make thread loading a bit easier.
Although it's plastic body shells a solid aluminum frame, the Singer 7442 sewing machine is portable and light-weight enough for toting to classes and workshops. It does not come with a carrying case, though.
Dimensions: H 13″ x W 13″ x D 7″
Weight: 16 pounds
Accessories Plus a Vinyl Cover
(Back to Top)
The Singer 7442 sewing machine comes with the following accessories:
Pack of 5 additional needles
3 extra bobbins (plus the one in the machine for a total of 4)
Twin needle pin
2 felt discs for spools
3 spool caps (mini, small, and large)
Screwdriver
Seam ripper
Lint brush for feed dogs
Darning plate
Vinyl soft cover
Consumers Say it Does a Good Job
Easy to learn and operate. Automatic needle threader works well. Concise and helpful manual. Light could be brighter. Great sewing machine for beginners. Beautifully done overlock stitches. Smooth feed dog system. Google Products shows 107 reviews with an average rating of 4.0.
There are 49 review on Amazon. You can read more here: Singer 7442 Reviews.
Average Rating: 3.9
Pros, Cons & Manual

Pros: User friendly. Automatic thread tension makes things easier for beginners. Handles thick layers of fabric easily (except thick leather). Comes with instructional DVD. Sturdy construction with aluminum frame and plastic sheeting. Light-weight. Fairly quiet.  Nice embroidery stitches and professional quality quilting stitches.



Cons: Lamp is supposed to last for 100,000 hours but if it doesn't it cannot be easily replaced. Presser foot pressure is pre-set so presser feet must be held up for extremely thick fabrics. Needle always stops in the up position which means some manual hand cranking for tight, embroidery work. Reverse button is awkwardly placed. No drop feed dog capability. A couple of buyers have noted an issue with the machine's timing going out which can be a costly repair. Several older reviews mention issues with their machine missing the hook that makes the automatic needle threader work but more recent reviews all rave about the ease of the needle threader so I have to wonder if Singer didn't fix this problem at some point.

Manual available online here: Manual
Manufacturer's Warranty: As of this date,the warranty in the US is 25 year limited on the machine head, limited 5 year warranty on motors, light, assembly, wiring, switches, speed control and electronic components, and a limited 1 year warranty on adjustments, belts, rings, bulbs, and attachments. As is standard with most warranties, the warranty may be void if certain requirements are not followed.
For current pricing information, follow this link:
CHECK PRICE
Amazon
Features Summary Review: