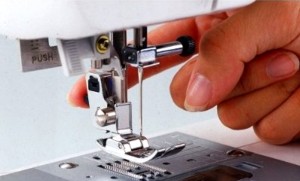 Beginners can use this presser foot overview to determine which feet would be most useful on a new sewing machine. Within each review we describe the particular feet that come with each of the machines but on our compare page we note only the number included. The number may be far less important than their purpose and how they help you sew better and faster.
The job of the presser foot is to hold the fabric down as the feed dogs push the fabric along from below. The most common of these is the general purpose presser foot which comes on nearly every basic sewing machine. Other than a walking foot, presser feet do not move during sewing, they simply apply pressure so the feed dogs can make contact with the material.
This is why presser foot pressure is important when comparing machines, by the way. As the feet hold the fabric against the feed dogs, different fabric thicknesses and layers need different levels of pressure, or different presser foot heights. A machine that has only one presser foot height may not work as well on very thick or very thin fabrics as would one with multiple presser foot height options.
Each presser foot serves a secondary purpose in addition to aiding the feed dogs. Some help attach zippers, some help attach buttons, and some help make buttonholes. These are all things that could be done manually without the presser foot but these add-ons make things easier, especially for beginners who are just learning these more complicated sewing steps.
The following presser foot overview describes the secondary purpose of other available feet:
¼ Quilting Foot – Makes a perfect, ¼ inch seam by providing a guide along which you can move the fabric.
Applique – Used for appliqué stitches and needle work.
Blindhem – Creates blind stitches for seams and hems.
Button Attaching – Holds a button in place while the needle jumps back and forth between the two holes in the button to attach the button to the fabric.
Buttonhole – Stitches the outsides of a buttonhole in either one step or four step action.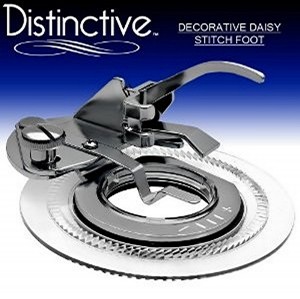 Decorative Stitch Presser Feet – Like the Daisy Flower Stitch presser foot, these make unique designs that can be used to embellish projects.
Free motion quilting foot – Used with darning and free motion embroidery or quilting.  Allows a better view of stitches and stitch placement.
Overlock Overcast – Creates overcasting and overlocking seam edges to keep fabric from fraying
Rolled Hem – Grabs and rolls the edge of the fabric to create a rolled hem.
Ruffler – Helps coordinate the fabric for making decorative ruffles.
Tape Binding – Assists in installing tape binding.
Walking Foot – Contains a set of feed dogs that work on the top of the fabric to aid the bottom feed dogs in pushing the fabric along during sewing.  This additional pressure and control of the fabric is helpful when working on extremely thick fabrics or quilting projects.
Zigzag – Some machines describe their general purpose foot as the Zigzag foot.  This presser foot is used when doing straight and zigzag stitches.
Zipper – Allows the needle to get closer to the edge of the fabric while attaching a zipper.
Beginner sewing machines may include built-in stitches that do the same thing as these presser feet and, therefore, do not require the purchase of these add-ons but if making a perfect rolled seam is necessary and has you stumped or if you want to experiment with some of the floral and decorative presser feet, you might poke around online and see which ones interest you. Some sewing classes also require that you have a walking foot on your machine. That doesn't mean you can't take the class if you have one of the more basic sewing machines. It just means you may need to buy a generic walking foot that you can use with your machine. Additional feet can expand the functionality of most sewing machines and cost around $10-30 depending on the brand and the purpose. You can often find them in metal, clear, and non-stick white Teflon.
These generic presser feet are often described as working with "low-shank" sewing machines. If the presser feet that come with your sewing machine snap-on, the machine is likely a low-shank machine although some require an adapter, which can also be purchased, in order to accommodate these generic presser feet.
Most of today's machines come with snap-on presser feet rather than the screw-in type originally developed. Several companies now make generic snap-on presser feet that help make perfect seams, floral designs, rolled hems, and provide other guides for easier sewing and can be used with nearly any brand of sewing machine: Singer, Brother, Janome, New Home, Kenmore, White, some Bernina models, some Husqvarna Viking models, Babylock, Euro-Pro, Juki, Simplicity, Elna and Necchi.
Distinctive is a huge presser foot brand of and they work with all low-shank snap-on machines. See some examples of their Distinctive Presser Feet.