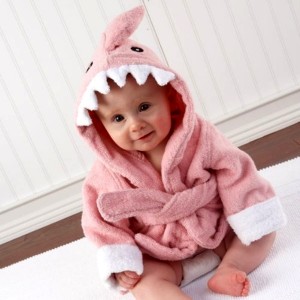 Here are a few ideas to help you cover the cost of a new sewing machine and have fun doing so at the same time. You might even find yourself with a nice, little business on your hands.
While a new sewing machine doesn't have to cost a fortune, considering today's economy, even a few hundred dollars might seem out of reach for many but a little bit of imagination and effort could make it much easier to afford.
See this cute bathrobe? It's adorable, right? Sweet, pink bathrobe with a shark fin designed for infants. I'm well past the age for needing infant sleepware but even I want this! And you know what? There are some really easy bathrobe patterns out there.

Even if you've never sewn before, you could master one of these pretty easily with a little practice.
This particular style is a finished product I found online here: Shark Fin Bathrobe. Some folks could come up with their own pattern from a finished product. Not me. However, there's an easy, patternless-pattern for a kimono style bathrobe in the Simplicity's Simply the Best Sewing Book (along with a number of other patternless projects for beginners).
Ummm….yes….cute bathrobe, but how does it pay for my new sewing machine again?
Here's the fun part. Practice making a few of these robes until you have the pattern down pat. Experiment with just a couple of fabrics – maybe fleece and flannel. (Many of these fabrics shed a bit so make sure to keep your new machine cleaned according to the instructions in the manual.)
Come up with an "angle" for your bathrobes. Maybe you're going to specialize in bathrobes for infants with matching infant towels and monogrammed or you're going to do only animal print toddler bathrobes or only "best father in the world" bathrobes for kids to give to Dad for Father's Day or heart patterned bathrobes to give for Valentine's Day (just around the corner, sort of!) – just some target market that interests you because it's easier to specialize in one thing you enjoy than it is to try to be all things to all people.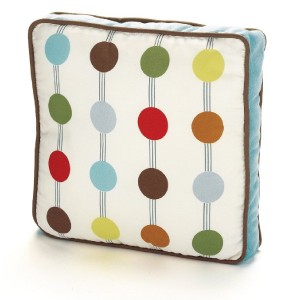 Once you've got your angle, try to drum up some orders from family and friends.
I know, if you're not a sales person this might sound impossible but you'd be surprised at how well "not selling" works. Have pictures of your sample work ready to share with friends or put on your Facebook page or give one away to get the ball rolling.
Give one really, cute robe to the middle child in a family of three children for a birthday and you're going to end up being asked to make two more robes in no time flat. Explain you'd love to do it and you'll just need a little money to cover the materials and your time and suddenly you have an order.
If you're uncomfortable with the thought of asking for an order get someone in your family who has more sales experience to help you out.
Get a good understanding of how much your materials will cost so that you can come up with the total amount to charge for one bathrobe. If your materials cost $10, maybe you charge $25 for a finished robe. Once you deduct the $10 for the materials cost, you'll have made $15 for your time – pure profit!
Just 20 such orders over the period of a few months could net you $300 – more than enough to cover the cost of a new sewing machine.
The neat thing is you don't have to pick bathrobes. You could do cute toddler blankets, cafe curtains for kitchens, custom place mats, throw pillow covers, or fun throw pillows for kids. Think of something within your skill level or that you can become good at in short order, find a pattern you can use or create your own, come up with your angle and get some orders rolling in. You might actually find you end up with a new business that will continue to bring in money long past having paid for your new machine.