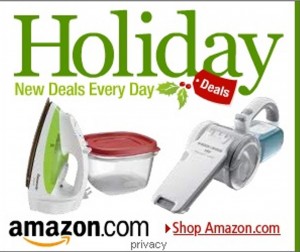 Here's a final list of last minute sewing machine deals for your 2010 holiday shopping. I hope it saves some of you some time and a few dollars, too.
In typical fashion, I've crammed too much into this final week before Christmas which is why I love online shopping. I prefer my pajamas, a bathrobe and a cup of cinnamon coffee for shopping rather than the hustle and bustle of the mall. (Actually, it's not the mall I mind. It's the parking lot!)
This means that I'm doing my Christmas shopping online tonight and I took some notes any time I came across a deal I thought worth sharing here. Hope this gives some of you just the idea or savings you were hoping to find for under the tree!

Click any of the machine names to learn more!
Amazon Specials:
Walmart Bargains:
Brother Computerized Sewing and Embroidery Machine, SE-400 – Cheapest combination sewing and embroidery machine online with a strong consumer rating. Amazon sold out of this model just a couple of days ago but Walmart still has it in stock PLUS the $30 Brother mail-in rebate applies.
Brother 50-Stitch Limited Edition Project Runway Sewing Machine, CE5500PRW
– a Project Runway sewing machine with lots of features and a recent Walmart rollback!
Overstock:
Hello Kitty Janome Sewing Machine – One of the ONLY sturdy sewing machines designed for kids and a nice 38% off. (So sturdy and so cute that I've come across a number of adults who like this one!)