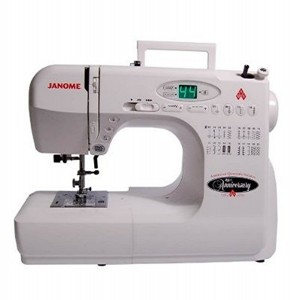 Last year, the Janome AQS 2009 computerized sewing machine was released to help celebrate the American Quilter's Society's twenty-fifth anniversary.
This compact machine includes a selection of features geared towards quilting.
Little things like blanket stitches, a drop feed dog lever, a start/stop button and the ability to have the needle stop in either the up or down position as you decide all add up to a more controlled sewing experience.

Table of Contents
(Click Ahead!)
Stitch Count / Presser Feet / Functionality / Accessories / Customer Reviews / Pros, Cons & Manual
REVIEW SUMMARY
MODEL: Janome AQS2009 Sewing Machine
REVIEWED BY: Erin
RATING: 4.0


LAST UPDATED: April 9, 2015

COMPARE PRICES
DISCONTINUED
There is also a speed control slider to cap the maximum stitches per second in order to keep the machine from racing along while you're working on detailed tasks.
It's a great sewing machine for beginners whose projects will lean more towards quilting and free motion embroidery although the utility stitches and buttonhole foot mean clothes construction and mending are also easily accomplished.
The Janome AQS 2009 is highly portable. It's light-weight and while not a mini sewing machine exactly, its smaller dimensions make it easy to take on the road with you for vacation, classes, or trade shows.
Includes Stitches Quilters use Most Often
(Back to Top)
There are a total of 20 built-in stitches including 2 styles of 1-step buttonholes. Stitch width is adjustable up to 5mm and length adjustable up to 4mm depending on the stitch selection. Stitch width and length are adjusted using the plus/minus buttons located just below the digital screen.
There are four stitch selection buttons at the top right of the machine. Each controls the selection of 5 of the 20 stitches. Just push the appropriate button to cycle through the five stitches until you reach the pattern number for the one you want. A stitch reference guide is printed on the machine body so you can easily find stitch numbers. Straight stitch, Zigzag, and Multi-stitch Zigzag will sew in reverse, too, for as long as you need using the reverse button. For all other stitches, the reverse button will sew a locking stitch and then stop automatically.
Here's the list of built-in stitches:
Straight
Lock-a-matic – Secures the beginning and end of a seam with backstitching.
Locking Stitch – an invisible locking stitch.
Stretch Stitch
Zigzag
Triple Stretch
New Sculpture Stitch – used for topstitching and outline-stitching
Sculpture Stitch – used for topstitching and outline stitches
Mutistitch Zigzag (also known as the Trico stitch)
Overedge
Slant Overedge
Stretch Blindhem
Blindhem
Square Buttonhole
Automatic Square Buttonhole (you can manually set the Automatic Buttonhole size and save it in the sewing machine's memory in order to do a number of buttonholes of the same size)
2 Applique Stitches
Blanket Stitch
Double Overlock
Smocking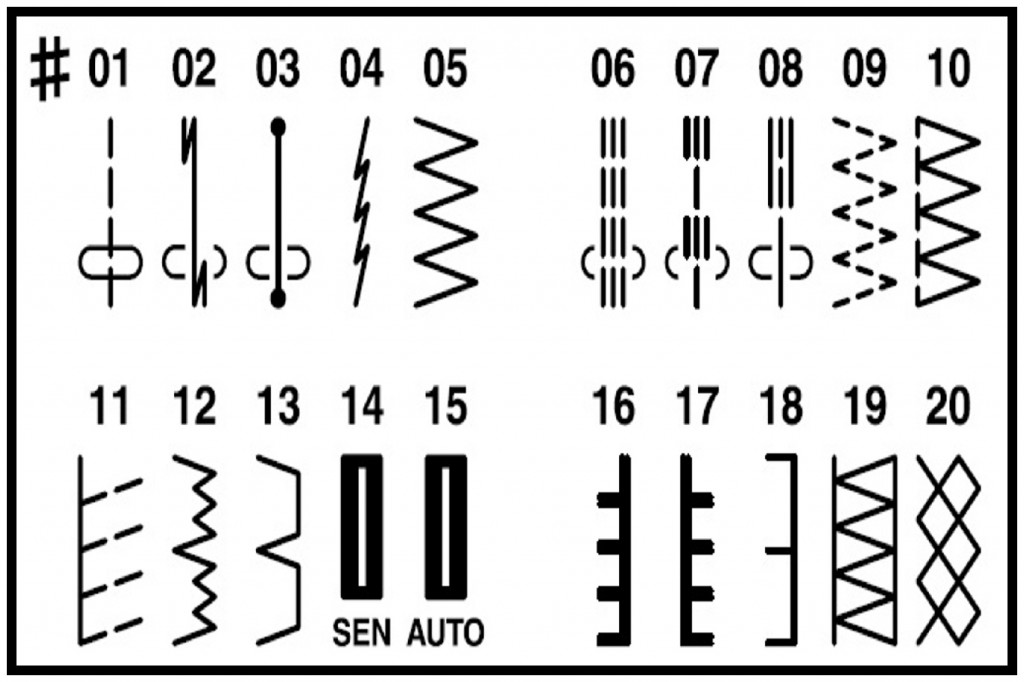 Only a Few Presser Feet in the Box
The Janome AQS 2009 comes with 3 snap-on presser feet. Presser foot height has 3 settings – down, up and extra-up which is 1/4 " higher than the regular up position. This accommodates thicker fabrics.
Satin Stitch Presser Foot
Automatic Buttonhole Foot
Zigzag Foot (General Purpose)
Features Include Needle Up/Down Button and More
(Back to Top)
Other than the hand crank wheel and the thread tension regulator dial, everything is controlled by push buttons and sliders. A set of four buttons conveniently located just above and to the right of the needle offer simple, easy sewing operation:
Start/Stop button – Operate the machine without the foot pedal by pushing this button to start sewing and pushing it again to stop.
Reverse button – Reverse stitch to lock your stitches in place.
Auto-lock button – Tells the machine to automatically stitch a locking stitch at the end of your seam.
Needle Up/Down button – Choose to have the needle stop in either the up or down position when you're done sewing. This is excellent for making tight corners as you can tell the machine to stop with the needle in the down position, rotate your work while the needle is still inserted in the material, and continue sewing at the proper angle without trying to manually line up your next stitch.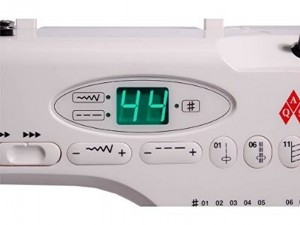 The Janome AQS 2009 has a horizontal top thread delivery system, a 4 piece feed dog, top loading bobbin with see through cover plate, and an additional spool pin and hole so the bobbin can be loaded without unthreading the machine entirely. The bobbin loading system stops automatically when the bobbin is fully loaded.
Needle position is variable to three positions – center, left, and right.
Here's something that doesn't exist on any of the machines we've reviewed so far – a speed control slider. This allows you to limit the maximum operating speed of the machine. Beginners can use this to have better control of their fabric and stitch line as they learn. For quilting and free motion embroidery, this means you aren't going to find the machine racing off without you while completing a detailed pattern. Max speed is 650 stitches per minute, or about 25% slower than other basic sewing machines and the slider lets you further reduce that speed no matter how hard you press on the foot pedal.
The drop feed lever behind the extension table moves the feed dogs out of the way for darning, free motion embroidery or button attachment.
The extension table removes to accommodate free-arm sewing and an LED work lamp illuminates the work space.
For those who desire assistance in threading the needle, an automatic needle threader is included although the machine can be threaded without it.
The compact design, carry handle and included hard case make the Janome AQS2009 perfect for traveling quilters or a fantastic primary machine for small spaces or beginners. , White LED Lamp,
Dimensions: L 14" x W 10" x D 6.5"
Weight: 12 pounds

Accessories
(Back to Top)
All accessories (except the hard cover, of course!) fit inside the extension arm. It's not a tray as much as a deep cubby so to get at the accessories you might need to spill them out into your hand or onto the table and pick through to get the one you want. The average size hand isn't going to fit inside the cubby.
3 pack of needles
4 clear plastic bobbins
Screwdriver
Seam Ripper
Spool Holder
Spool pin (for the top thread
Additional Spool pin for loading the bobbin
Felt
Hard Cover
Users Like the Performance and Light Weight
(Back to Top)
Great for a portable quilting backup or as a basic beginner machine. Solid machine that runs quietly. Smooth stitch operation. Janome is well known for precision operation.
There are no reviews yet on Amazon. This machine was sold at the American Quilting Society's shows and events and only available online after a period of time so it's only recently been available through places like Amazon.
Average Rating: 4.0
Pros, Cons & Manual
(Back to Top)


Pros: Presser foot pressure is adjustable to 3 settings. Drop feed dog system. Top loading bobbin. See-through bobbin cover plate. Push button control and sewing. Hard case included with purchase. Needle up/down button. Compact size for travel.



Cons: More utility stitches than decorative stitches (great for clothes construction and quilting but not necessarily for those who want to do craft sewing and are looking for neat stitch designs).

Manual available online here: Manual
Manufacturer's Warranty: In the US, as of this date, the Janome AQS 2009 sewing machine comes with a 20 year warranty on parts, 2 years on electrical, 1 year on labor and may be voided by certain activities.
Features Summary Review: