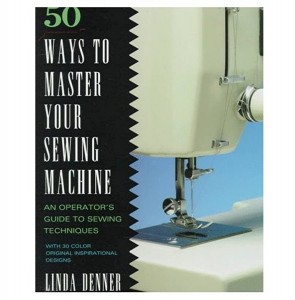 You finally get it home and next on your list? How to master your new sewing machine. Here's a book that covers the basics and some great sewing machine tips you won't find anywhere else.
I'm sure some of you know exactly what you want to do with your new machine and are eager to get started. Others out there know they want to learn but may not be sure where to start at all.
There are classes, groups, and friends and – my favorite method – trial and error.
Getting your hands on your machine and playing around is going to need to be done at some point. Depending on your level of experience, this can seem a little intimidating.
My mother has a book shelf in her craft room filled with books about sewing and embroidery. She shared one with me that she found to be the most useful. It was called 50 Ways to Master Your Sewing Machine
I could see why she treasured it – in fact she wouldn't let it leave the house! 😉 It started with a very helpful overview of the parts of a sewing machine and then went on to describe 50 things you can do with your machine that you might not learn anywhere else. It doesn't cover projects as much as it covers things you can do with your sewing machine that can help you personalize your projects in interesting ways.
Two tricks stood out in my mind. The first was how you could use your sewing machine to attach ribbon in a way that braided it while you were sewing. A second trick was how to use a thumb tack on your flat bed to make your machine sew in a circle.
This book was out of print BUT I found a ton of used copies still available on Amazon. I spent about $4 to get one marked to be in excellent condition. It should show up any day!
I also pre-ordered Reader's Digest NEW Complete Guide to Sewing. This continues to be one of the best definitive books on sewing you can find but it's been a few years since it was last updated. This new version is due November 2010. By the time it shows up, I'll probably have forgotten I ordered it, making for a nice little surprise!
2JAV4PFD2R6V