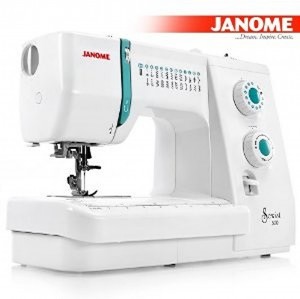 If you're considering buying a sewing machine for a beginner but have never used one before, it's important you take into consideration the following:
What do you intend to use the machine for?
Will you need to transport the machine to various venues?
Will you want to add accessories to the machine at a later date?
What type of fabrics do you think you'll be using?
How much are you prepared to pay?
The first point may sound silly in that you obviously intend to sew with your machine. However, not all machines will be able to handle certain types of fabrics, so knowing your intended use is important.
If you're looking for a machine you can carry around with you, say to classes or when you travel, then the weight of the machine must be a factor. You'll obviously need a machine that is light enough to pack away, and carry without too much effort.
On the other hand if it's too lightweight then you may not be able to do soft furnishings or upholstery. For these projects you would need a sturdier machine.
Although as a beginner you will just need the basics on the machine of your choice, you will of course become more adept, and will probably want to expand on your skills. For this reason it's a good idea to establish that the machine you choose can take extra accessories at a later date.
Most machines can handle cotton and reasonable weight fabrics, but thicker fabrics need a longer stitch length so be sure you allow for this.
Stretch fabrics are difficult to sew, so you'll need a stretch stitch to get the best results.
Delicate fabrics need less pressure when sewing, so you'll need to be able to reduce the pressure on the presser foot to prevent snagging. Some machines come with a Teflon coated foot which is better for this type of fabric.
If the majority of your work will be making curtains, you'll need an extension table or large sewing bed to cope with the lengths of material.
An auto thread function is a great asset as it saves you so much frustration when starting your work. This is something worth looking out for when considering your new machine.
The cost of sewing machines varies considerably. If you're intending to use your machine for work, or on a regular basis, then it's worth spending the money to get a machine that will last for years to come.
Good quality machines usually come with a warranty, and a good selection of accessories, together with tuition.
Time spent researching for the machine that will best serve your purpose will not be wasted. Knowing your requirements will help you to choose wisely and you will not be disappointed.
The last decision to make is whether you want an electric or computerized machine. In this respect talking to an expert will help you to decide.
Buying sewing machines for beginners is not difficult, provided you know in advance what you expect from your new sewing machine.